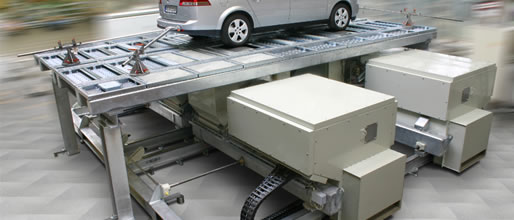 Measurement solutions for development, production, testing and calibration
HBM's range of strain gages, transducers and data acquisition instrumentation and software provide you with the premier standard measurement platform for automotive testing.
Take engine testing, test track or crash tests, for example. In applications like these, automotive test engineers must have highly precise and repeatable test results. Thanks to their accuracy, reliability and value, HBM products offer you an almost infinite variety of measurement configurations, meeting the most exacting of requirements for automotive development and manufacturing.
Special know-how and many years of experience in the field of measurement technology and, in particular, the automotive industry make HBM the logical partner for automotive test engineers.
We are one of the few global suppliers of complete measuring chains and data acquisition systems; from sensors and transducers through signal processing to analysis and visualization software. HBM's products set accuracy standards in the fields of mechanics, simulation, analysis and factory automation.
Read our application reports from the automotive industry...
Engine dynamometers
Transmission and differential testing
Gearbox testing
Electric motors testing
Hydraulic pump testing
Hydraulic motor testing
Load units, power absorbers.
Vehicle and Component Testing
Functionality test rigs
Fatigue and durability testing
Environmental testing
Brake testing
Clutch testing
Driveline, drivetrain testing
Crash and safety testing
Vehicle dynamometer, chassis dynamometer, roll test stand, rolling road
Hybrid electric propulsion systems
Road and track fatigue and reliability tests
In-vehicle testing
Production and Process Monitoring
Engine assembly
Transmission assembly
Gearbox assembly
Component assembly
Monitoring of stamping presses
High precision reference measurements
Transducer calibration
Calibration of measurement instruments
Test bench calibration