Rail Test with HBM: The World's Leading Measurement Technology for Railways, Rail Traffic and Railroad Companies
The rail test product range and portfolio offered by HBM for the rail industry covers almost all areas that are relevant metrologically for development, checking, controlling and monitoring.
Customers around the world therefore trust the comprehensive know-how that HBM has gained over decades of cooperation with the railway industry and application service companies.
Continuous Monitoring of Vehicle Status
HBM is the partner of Argos Systems for more safety and transparency in rail traffic. This is how Argos Systems functions:
Local measuring points make it possible to continuously monitor, with constant quality levels, vehicle status and superstructure load parameters.
The measurements do not impede traffic at normal speeds on the operational track.
The vehicles do not require any equipment, but vehicle identification systems (transponders) can be incorporated.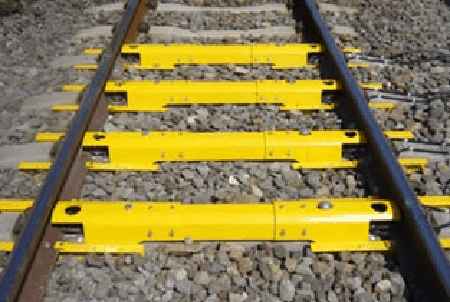 Simulations and Calculations
HBM's nCode software branch itself began in the rail industry in the 1980s, so it is no surprise many companies in the design and operation of trains continue to derive benefits from the latest generation of nCode products.
Upfront design of train structures and bogies can be optimized for fatigue performance, thus saving weight and reducing energy required and damage to tracks. Operational measurements of strain and acceleration are taken on both train structures and tracks to predict failure and also assess damage. In this way, problems can be identified before they can cause failure and thus preventing serious derailments and accidents.
Typical applications and measurements are:
Understand fatigue of railway components like wheels, bogies, axles, etc.
Understand field loading – how often are bumps seen, how many starts/stops per hour or mile, etc.
Fatigue analysis of structural members
Ride quality analysis to understand the impact of ride and track harshness on the riders
Remote monitoring of tracks

Rail Measurements
As part of the track structure in railway networks, rails are subject to high and permanent strains. In addition to material failures, weather influences and the effects of rail traffic can lead to various types of damage. HBM measurement technology helps in continuous monitoring of the rail network and in individual measurements on rails - for instance, in the following tasks:
Measurement of forces, mechanical stresses, accelerations and methods for determining lateral track displacement, longitudinal track displacement, track distortion, lateral sleeper displacement
Measurement of track component loading during operation
Investigations following changes in operating conditions, e.g. increasing axle load, speed, etc.
Detection and continuous monitoring or risk factors for derailments and overloading due to: Y and Q forces, load status, derailment coefficient, train formation, centrifugal force, curve travel, rolling characteristics, instabilities, rail displacement forces, wheel deformities
Verification of applicable rules
Data determination for Life Cycle Cost calculations

Measurements on Carriages and Rail Vehicles
The current international standards (e.g. EN 15227) for rail test impose high requirements on the safety of rail vehicles. The aim of every new development in rail transport is to develop structures that are crash-safe with appropriate designs for maximum safety during collisions, impacts and crashes.
HBM measurement technology provides assistance, amongst others, for the following tasks:
Determination of requirements for the collision safety of passenger and driving compartments
Crash tests with force transducers
Road Tests and Acceptance Runs
There are numerous application options and cases for mobile measurement data acquisition in rail traffic. Whether the dynamic behavior of railway carriages are involved or the checking of specific parameters: HBM measurement technology provides valuable services in road tests and acceptance runs.
For approvals: Investigations on curve junctions and/or a 190m track curve, and measurements on wheel contact and driving forces
Detection systems for unround wheels, vehicle detection stations, rail temperature, gauge changing systems and rail weighing bridges.

Component Test Bench Measurements
Specific requirements must be complied with for the approval of components by national supervisory authorities (e.g. Federal rail office). Typical application cases are strength tests, driving tests and braking tests. The use of reliable measurement technology ensures a high level of safety and traceability of measurement results in these cases.
Numerous state accredited testing facilities therefore use HBM measurement technology for approvals in rail traffic, e.g. for:
Operation measurements for the analysis of loads and component loadings
Structural durability testing of wheel set shafts, bogie frames, complete wheel sets, draw gear and buffing appliances, and superstructure components
Experimental strength verifications on rail vehicles
Operational vibration analyses
Metrological accompaniment during introduction of new components for superstructures and their field tests
Investigation into effects of vibrations on components
Planning, performance and documentation of measurements for the documentation of the actual status
Measurements as per DIN 45672.
Measurements on Overhead Lines and High Voltage Components
Measurements on leading wires, overhead lines and high voltage components pose special challenges for measurement technology. The difficult electromagnetic ambient conditions often prevent the use of standard products, such as electric strain gages.
There are numerous new possibilities, with optical measurement technology based on Fiber Bragg sensors (optical strain gages, interrogators, software), for achieving correct and meaningful measurement results, even for measurements on overhead lines and high voltage components.
Optical measurement technology for rail test
Article about Fibre Optic Sensor
This article presents the project SAFE onLine (Pantograph for fibre-optic based recordingand online evaluation of the catenary condition) funded by the Austrian Research Promo-tion Agency (FFG).
Lösungen für verschiedene Aufgabenstellungen
Argos Wayside Train Monitoring
Örtliche Messstellen ermöglichen es, kontinuierlich bei Regelgeschwindigkeit die Parameter des Fahrzeugzustandes und der Oberbaubelastung zu erfassen. Gemessen werden vertikale statische und dynamische Kräfte, horizontale Kräfte und Längskräfte sowie hochpräzise die Radformen.
Komponenten auf dem Prüfstand
Für die Optimierung und auch Zulassung von Komponenten durch nationale Aufsichtsbehörden sind bestimmte Anforderungen einzuhalten. Typische Anwendungsfälle sind Festigkeitsprüfungen, fahrtechnische Prüfungen und bremstechnische Prüfungen. Der Einsatz zuverlässiger Messtechnik sorgt hier für ein Höchstmaß an Sicherheit und Rückführbarkeit der Messergebnisse.
Messungen an Oberleitungen und Hochspannungskomponenten
Messungen an Fahrdrähten, Fahrmotoren, Oberleitungen und Hochspannungskomponenten stellen eine besondere Herausforderung an die Messtechnik. Mit der optischen Messtechnik gibt es zahlreiche neue Möglichkeiten, zu korrekten und aussagekräftigen Messergebnissen auch bei Messungen an Oberleitungen und Hochspannungskomponenten zu gelangen.
Fahrversuche und Abnahmefahrten
Für die mobile Messdatenerfassung gibt es im Schienenverkehr zahlreiche Anwendungsmöglichkeiten und Einsatzfälle. Ob es um das dynamische Verhalten von Eisenbahnwaggons geht, oder Prüfungen von bestimmten Parametern: Messtechnik von HBM leistet auch bei Fahrversuchen und Abnahmefahrten wertvolle Dienste.
Messungen an Schienen, Weichen und Schwellen
Schienen, Weichen und Schwellen sind als Teil des Gleiskörpers im Bahnverkehr hohen und dauerhaften Belastungen ausgesetzt. Neben Materialfehlern können Wettereinflüsse sowie die Einwirkungen des Fahrbetriebs zu verschiedenen Schäden führen. Messtechnik von HBM hilft bei einem kontinuierlichen Monitoring des Schienennetzes und bei einzelnen Messungen an Schienen.
Simulationen und Berechnungen
Der Bereich Software HBM nCode ist in den 1980er Jahren im Umfeld der Bahnindustrie entstanden. Der Entwurf von Eisenbahnkomponenten (Fahrzeug und Oberbau) kann vorab hinsichtlich des Ermüdungsverhaltens optimiert werden, wodurch Gewicht eingespart und Energiebedarf, Beschädigungen und Verschleiß reduziert werden.