Short-Circuit Tests of High-Performance Traction Batteries Using Non-Linear Current Sensors
Qualifying the circuit breakers and fuses of high-power traction batteries requires the ability to measure currents in the range of a few kiloamps. It also calls for the ability to measure currents of a few amps precisely and with high dynamics. This report introduces a specially developed non-linear current sensor (NLCS) and explains measurement and analysis using the Genesis HighSpeed data recorders.
To be able to meet the increasing performance requirements in electromobility while maintaining a small overall size, the voltages of the battery systems used are increased. This means higher safety requirements, for example, to be able to control the high short-circuit currents that occur in the event of a fault and to interrupt them safely. Moreover, special circuit breakers are being developed and optimized for this purpose. Since these components are highly relevant to the safety of an electric vehicle, they must be tested very carefully under all possible conditions of use. Apart from the current that needs to be interrupted, the operating temperatures, air pressure (use in mountains), and inductance in the circuit are of high importance. A special test stand was developed at the Aschaffenburg University of Applied Sciences to allow for testing of the influence of these parameters. It uses testing and measuring equipment from HBK. In particular, the functionality of the Perception analysis software was used to increase the accuracy of the measurement and automate the analysis processes.
The special challenge in the metrological tests of circuit breakers is to enable the measurement of the high short-circuit current in the order of 10kA and to determine the safe disconnection immediately after the circuit has been interrupted. This requires an accurate current measurement in the range of 1 A. To meet these measurement requirements, the test stand of Aschaffenburg University of Applied Sciences uses ...
Sign in now to get free access to the full article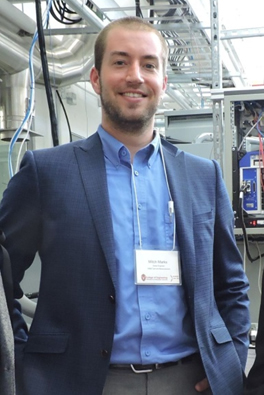 Contact Our Expert Mitch Marks
If you have any questions concerning Electric Power Testing, we are here to support you.
Mitch Marks is among HBM's many experts in electric machine and drivetrain testing. He is a Business Developer for electrification at HBK - Hottinger, Brüel & Kjær with a Masters in electrical engineering. If you have any questions regarding our products or applications, please get in touch with Mitch.