M408 / M416 Connecting up to a factor of 4 more sensor chains: M408 and M416 multiplexers for optical strain gages
Whether with electromagnetic interference or in highly explosive environments: Optical strain gage measurement technology ensures reliable test results, even with high strain and adverse ambient conditions.
Product Description
Benefit from the advantages of "Measuring with Light" - now also when working with many measuring points – use HBM's M408 and M416 multiplexers. A single HBM multiplexer increases the number of optical sensor chains - and measuring points - that can be connected by up to a factor of 4. Instead of "cascading" several interrogators in series, multiplexers allow for extremely simple installation of your test setup - and at the same time provide a distinct cost advantage.
Up to 320 optical measuring points
The multiplexers upgrade four-channel interrogators to 8 (M408) or 16 (M416) optical sensor chains with 10 to 20 sensors each. Which means: A single installation comprising a 4-channel interrogator and a multiplexer enables up to 320 optical measuring points to be recorded: For reliable real time data acquisition. With optimal characteristics in terms of temperature and long-term stability.
The M408 and M416 multiplexers are an integral part of HBM's optical measurement chain, comprising optical strain gages, interrogator and technically mature data acquisition software.
Optical measurement chain: All components from one source
Using all components of the optical measurement chain from one source you benefit from double safety: On the one hand, you get reliable test results thanks to mature, fiber-Bragg-grating-based technology - and, on the other hand, you use perfectly matched components for your measurement chain.
Multiplexers and interrogators from HBM are specifically designed for optimal and easy integration and, in combination, ensure that you can start measuring immediately.
Related Products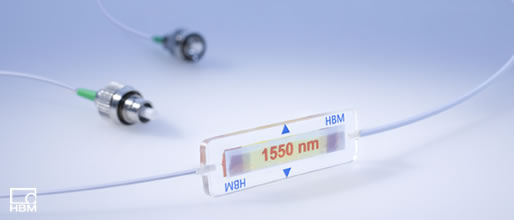 Optical Strain Gauges from HBM
Key Features
Upgrade of 4-channel interrogators to 8- or 16-channel mode
Real time data acquisition
Reliable, high-speed optical circuit
Optimal integration with matching interrogator
No external excitation voltage required.
Product Literature
Title / Description
Language
Products
Language
Content Types
Order Numbers
1-M408
1-M416