Kolubara Metal Vreoci in Serbia was established in 1953 as a part of Kolubara-a large industrial mining conglomerate. Kolubara Metal is a manufacturing and engineering company specializing in mining equipment, equipment maintenance, repairs, and other engineering machinery used in the mining industry.
To facilitate the assembly and maintenance of mining machines, an improved method needed to be found for weighing the superstructures of mining machines.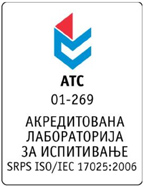 Weighing was the procedure of choice for determining the weight and location of the center of gravity on mining machine superstructures. It can be performed on different types of mining machines (bucket-wheel excavators, spreaders, mobile transfer conveyors, etc.) and can also be used on various steel structures in other industrial applications.
Weighing has been carried out at Kolubara Metal since 1988. The measurement laboratory and research service was established in 2002. It was accredited in accordance with SRPS ISO/IEC 17025:2006 in 2009.
Weighing of mining machines needs to be performed after a factory is built, or after major reconstruction, at periodical intervals. The overall assessment of stability of mining machines is based on weighing results (several mining machines in Serbia had previously crashed due to the center of gravity being unknown).