Electrical Machine Testing & Powertrain Testing
Gain the competitive edge in electrification with HBM Power Analyzers. Designed specifically for the testing of electrical machines and inverters, HBM systems offer significant benefits over conventional power analysers when it comes to electrical machine and powertrain testing.
Premium electrical machine testing from HBM comes in the form of the eDrive solution, which covers the entire measurement chain: high-precision sensors, powerful instruments, and intuitive software. Mechanical signals (e.g. torque) and electrical signals (current and voltage) are acquired simultaneously, helping engineers to better understand the electrical drive and its losses faster and more accurately than ever before.
Two critical selling points of the eDrive electrical machine testing solution include:
High accuracy Power Analyzer: Measures and calculates electrical signals and power in real-time on up to 51 channels, as well as mechanical power with up to 6 torque / speed signals and a typical Base Power Accuracy of 0.02%.
High performance Data Acquisition System (DAQ): Synchronous and continuous recording of electrical signals, torque, speed, temperature, acceleration, CAN bus and much more. Real time or post process analysis for result verification, mappings or advanced analysis like electrical and NVH correlations.
Easy to Expand Beyond 3 Phases
Expand to 51 power channels for multi-phase systems or multi-motor powertrain testing applications
Upgrade to up to 6 torque / speed inputs for up to 6 mechanical power channels
Adapt custom user formulas for special applications such as multi-level inverters


Grows with your requirements:
a power analyzer for 6-phase machines or hybrid drives
Designed for electrical machine testing (i.e. motor testing or electrification)
Features channels for electrical and mechanical values
Compatible with accelerometer, temperature, and CAN inputs
Samples all signals and storage in a data file simultaneously
Acquire raw data per set point or continuous storage for start-up power analysis


Easy measurement setup:
an integrated system that replaces a variety of different devices
Efficiency Mapping in Minutes
Real-time formulae input for special evaluations, e.g. cable losses
Fast mapping by shortest measuring times per set point
Real-time analysis such as space vector and dq0 transformation
Raw data storage enables advanced analyses such as iron loss, copper loss maps, or MTPA curves


Efficiency maps in minutes:
Save several hours of time by completing your analysis right at the test stand
Infographic – Electrical machine and powertrain testing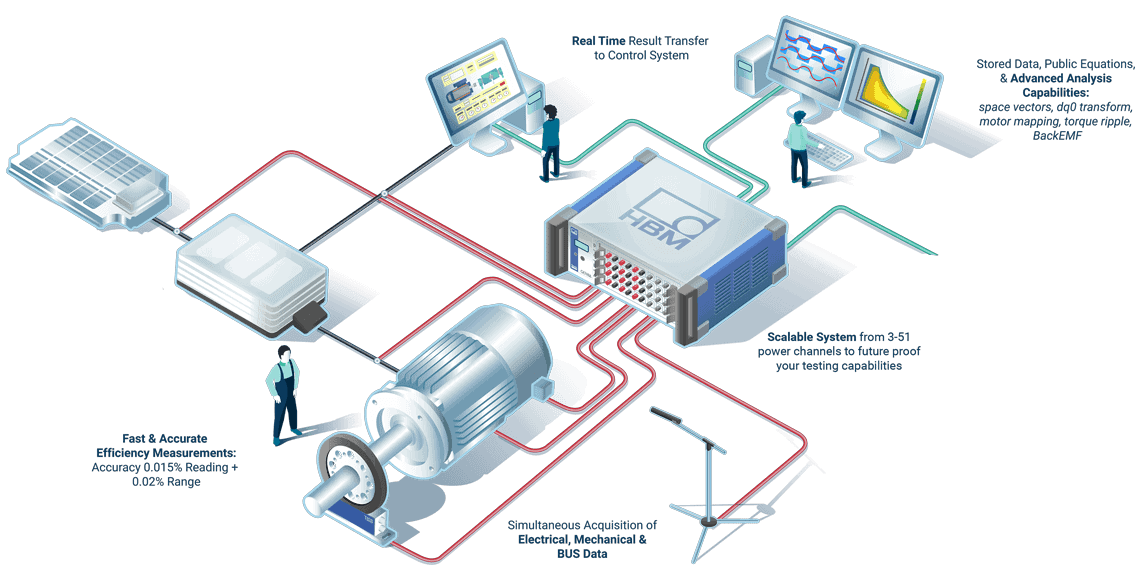 The eDrive solution from HBM covers the entire measurement chain: high-precision sensors, powerful instruments and intuitive software. Mechanical signals (e.g. torque) and electrical signals (current and voltage) are acquired simultaneously and help engineers to better understand the electrical drive and its losses faster and more accurately than ever before.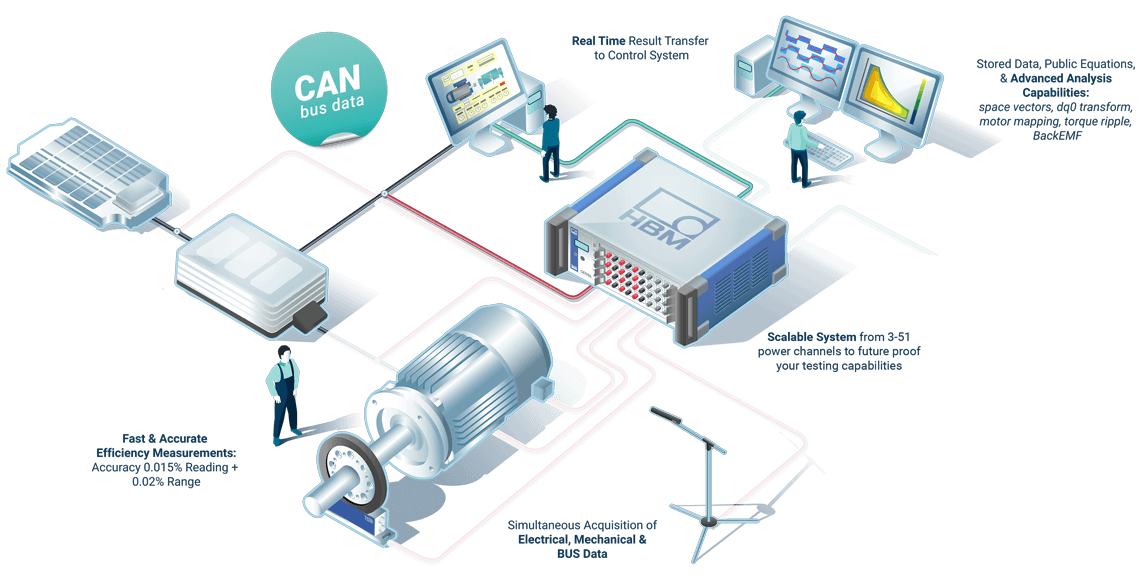 Test engineers performing high-speed power measurements of inverter-driven electric machines can now combine CAN bus control signals with data about electrical (current, voltage) and mechanical (speed, torque) signals. The simultaneous storage of all types of data by a single Power Analyzer enables faster and more flexible set-up of test benches.
CAN – a simple and effective way to manage complex Tests
CAN bus support means you can acquire or transfer data via CAN or CAN FD formats, as required; or manage experiments via CAN bus control commands.
Compare and correlate the measured values of the machine with what the machine's controller is estimating, by bringing external sensor signals into the Power Analyzer. Save all signals to a single file for review, post-processing and auditability.
Records up to 1.000 input signals via CAN / 500 via CAN FD
up to 4 input ports from the CAN bus into the GEN DAQ mainframe
includes stand-alone recording and local storage
Provide feedback for the automation system by transferring calculated results of machine measurements into a different data system (e.g. the dynamometer).
Transfer via CAN or CAN FD
up to 1000 result blocks/sec
includes up to 240 asynchronous results per block
A familiar interface which provides simple and easy-to-use controls for data acquisition.
Receive remote control commands from the CAN bus (e.g. START or TRIGGER)
transfer status information to the CAN bus (e.g. IDLE or RECORD)
Faster, More Flexible Set-up of Test Benches
Extending the scope of eDrive Power Analyzers to include CAN bus data gives Test Engineers three major advantages:
speed of data handling, and the ability to identify any variations between the target values sent from the ECU via the CAN bus to the inverter and the actual values captured by direct measurement.
flexibility for data acquisition, adding signals from the CAN bus and ease of handling test results
simplicity when building test stands, as data transfer and control is done via one common bus
The CAN bus interface is available as an option for new hardware and as an upgrade for most HBK Power Analyzers already in the field.
The meter display is freely configurable to show all desired results in a table alike, easy to read form, close to a conventional power analyzer.
Complex drives like this dual eAxle can be mapped into the power analyzer and all formulas and displays to investigate this system are created automatically.
The configurably screen allows scope displays of all values incl power trends, system wide information and detailed meter readouts – even on multiple screens
The polar diagram allows insight into system balancing and load status for all 3 phase applications
A change from PWM to block modulation shown in a display of current space vectors in a scope and in the x/y-plane.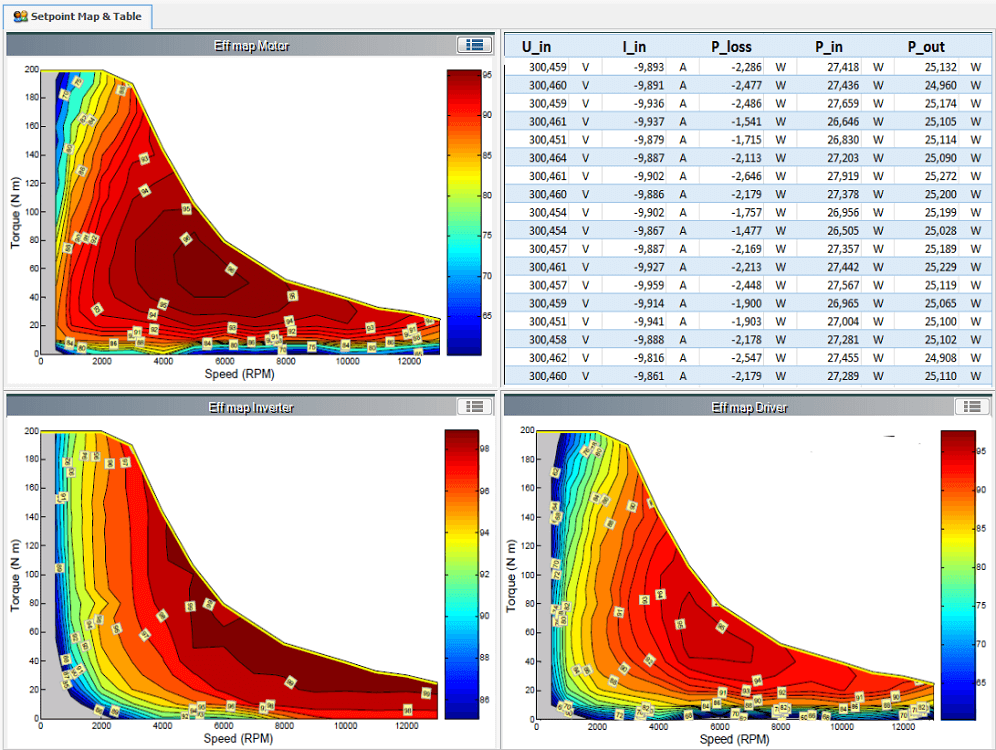 The integrated motor mapping feature allows to create multiple efficiency maps for inverter, motor and drive train simultaneously
Previous
Next
How to Interface with Genesis HighSpeed and/or Perception
Would you like to integrate the HBM eDrive electrical machine testing solution into your test stand automation? Perception software and/or the Genesis HighSpeed hardware can be used in your specific environment, in exactly the way you want.
Several large system integrators already did integrate eDrive, using one or more of the interfaces available:
EtherCAT or CAN FD for hardware-based data transfer with up to 1000 result blocks/s in real time
API interfaces to directly control the hardware as well as the Perception software from common automation software packages
The nCode GlyphWorks software for post-acquisition signal processing and power calculation
Data reader dll to read the data into any 3rd party analysis software like MATLAB or LabVIEW.
So, integration is a breeze, using the powerful tools available.

Power Analyzer Solution - Request a Live Demo Session
In our live demos, we will guide you through the requirements of electric power testing and power analysis. We will guide you through the hardware and software included in our eDrive power analyzer solution and answer all your questions. See you online!
HBM eDrive Testing Product Literature