Redefining Rugged: HBM's SoMat eDAQ Data Acquisition System
Nothing can stop the eDAQ. Elevated shock and vibration levels, even violently spraying hydraulic fluid during testing are no match for this rugged, mobile data acquisition system.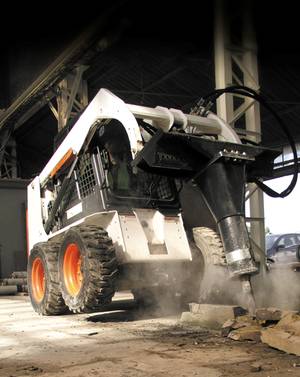 Mike Ellis, a Project Engineer with Gates Corporation, United States Customer Solutions Center focusing on Advanced Product Technology, and his team were recently in the field collecting hydraulic pressure and acceleration data. Their aim was to try to replicate and capture event data using HBM's SoMat eDAQ, a rugged, mobile data acquisition system, in hopes of discovering the cause of customer failures on a skid steer loader's rock breaker attachment.
During testing, elevated shock and vibration levels shook the eDAQ and skid steer, excessive dust from the rock breaker covered everything. After several hours operating in the harshest of duty cycles, the failure occurred, violently spraying hydraulic fluid around the entire machine for about 10 seconds. After it was contained, Ellis' team inspected the damage. The eDAQ was covered in hydraulic fluid from top to bottom—soaked in approximately 6.35mm of fluid. Ellis remarked, "My colleague who operated the skid steer at the time of the failure was concerned the system was destroyed, or, worse yet, the data lost. I assured him that was not an issue. We wiped down the eDAQ and downloaded the data from the test run and continued to test the remainder of the day."
Recalling this incident and the operation of the eDAQ, Ellis confidently stated: "Our eDAQ system is by far the most rugged piece of testing equipment we own. If my laptop or our other test equipment had been in the skid steer, they certainly would not have survived."
The rugged and dependable capabilities of the eDAQ were observed by Ellis even before Gates Corporation purchased their existing systems. He was thoroughly impressed with the eDAQ's use at many of his customers' locations. The eDAQ has proven itself in Gates Corporation's laboratories as well as the field. Ellis adds, "It is an extremely accurate system. It is so easy to use; we use it as a check on our other pieces of laboratory testing equipment—to make sure they are set up correctly. If I do have a question, I know the SoMat brand is backed by a true engineering firm. In working with their support team, I can always call and 'talk application' not just to see if 'a certain transistor is bad.' Furthermore, the updates for the SoMat software are great. They are always backwards compatible and, unlike our other lab equipment, there are no hidden or upgrade fees. I know that I can depend on our investment being supported for many years to come."