Schuler: HBM Measurement Technology in Process Monitoring
New coins are brought into circulation when the old ones are defective and worn. Coining presses made by the Göppingen-based Schuler company are involved in about 80 % of coin production worldwide.
Hard cash in one-minute cycles
Up to 800 coins are minted every minute on one press , which for a 2-euro coin means an equivalent value of 1,600 euro per minute of "new" hard cash. Crucial for the quality and the look of a coin are not only the tool and the material used, but also the force of the pressure used for minting.The accurately defined minting force is up to 150 t and is monitored.
Schuler relies on the highly dynamic and reliable measurement technology provided by HBM to do this, with a measurement chain comprising the SLB700A strain transducer and the ClipX measuring amplifier. The force is measured by the strain of the machine base in a force shunt with the SLB700A. The great advantage is in the ease of implementation of the strain transducer with four screws. Adapting the firmware of the ClipX allows implementation of very fast peak force recording. The measured value is forwarded via Profibus to the primary S7-300A Siemens PLC, where it is compared and monitored with adjustable upper and lower limit values.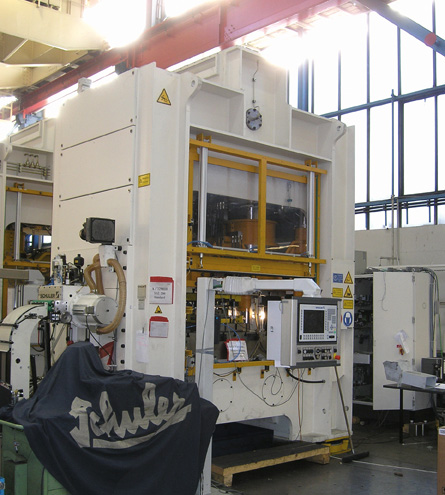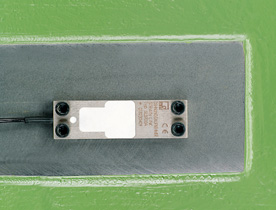 Monitoring the minting procedure
The process is controlled by a cam controller, which makes the "measuring window active", "clear" and "set to zero" signals available for monitoring the force.
Zero setting takes place before the measuring window is switched to active, to compensate for possible zero displacement. The actual recording of the peak force value takes place in "measuring window active" mode and the value is stored until the cam controller resets the peak value memory with the "clear" signal and the process begins again.

High-speed blanking presses at up to 3,000 strokes per minute
Fast peak force monitoring with the ClipX amplifier and the SLB700A strain transducer is not only applicable for coining presses, but will soon also be in use for high-speed blanking presses (Fig. 6). In contrast to coining presses, the force of two of the four diagonally opposite uprights of the press frame is monitored. Forces of 100 t to 400 t at 800 to 1,000 strokes per minute can be achieved.
High-speed blanking presses are used, for example to stampsheet steel for electric motors. The aim is also to enhance performance in this area in the future, with up to 3,000 strokes per minute,which would mean cycle times of less than 500 ms.