The WindMETER Solution: Optical Wind Blade Monitoring System
The WindMETER system is a reliable monitoring solution specifically designed to monitor wind generator blades. It combines sensors and data acquisition hardware to provide real-time measurements, and is designed to integrate and upstream the customer's system.
The solution consists of a low consumption optoelectronic interrogator, suitable for operation over an extended temperature range, and a set of Fiber Bragg Grating (FBG) strain and temperature sensors.
This innovative wind-blade monitoring system is characterized by its long-lasting performance, attained by a built-in standard, which allows all measured data to be auto-calibrated every 10 ms.
The WindMETER can be integrated in a wide array of applications, such as:
Pitch control;
Condition monitoring;
Load assessment;
Blade design validation;
Ice detection.
WindMETER System Specifications

Safe operation with no need for a climatized cabinet
Extended Temperature Range:

Protection rate suitable for hub environment

Adaptable to pre-installed systems
Custom Communication Protocol:
CANOpen or other, available upon request

Several monitoring applications on blades
High Strain Range:
Some WindMETER projects: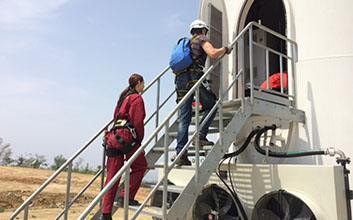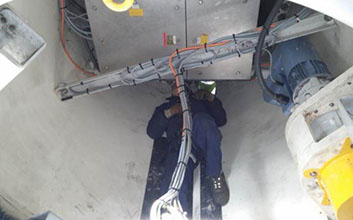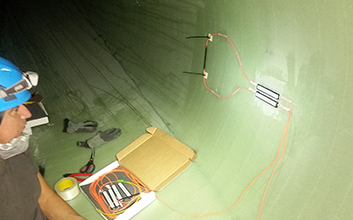 Empower your Turbine with Optical Technologies
Optical technologies have become a powerful option for demanding environments such as ones found in multi-watt wind turbine generators. Due to its intrinsic characteristics, Fiber Bragg Grating (FBG) sensor technology matches perfectly the following requirements of structural and condition monitoring of wind turbines:
Multiplexing different parameters in a single chain
Immunity to EMI/lightning and electrical isolation
Embedding capability during blade manufacture
Signal integrity
HBM FiberSensing's optical fiber sensors and interrogators are optimized for measuring applications with high load cycles, long sensing networks, or ones that require resistance against lightning.
Optical monitoring systems applied to wind turbines work for:

Increasing efficiency with accurate long-term monitoring

Ensuring high fatigue resistance

Covering high strain ranges

Embedding capability during production

Benefiting from reduced cabling and small-sized sensors

Combining the best of both electrical and optical technologies