Mechanical measurements by professionals in North West Europe
We help you all the way from professional installations to measurement results you can fully trust. Our engineers have the knowledge, experience and tools to make you and your measurement project a true success.
Here you see some of our specialties listed and described. How may we help you?


Strain gauging of mechanical components
When required to apply strain gauge installations on mechanical components, perhaps even in adverse conditions - hire our engineers for the job to ensure accurate and reliable measurement results!
We find the most suitable strain gauge and accessories, make professional surface treatment and cleaning before applying the strain gauge. Additionally, we have experience in what cover materials to use, how to apply it and how to make the installation ready for measurement.

Why hire our engineers for the job? This is what customer Minesto says:

"We have received very good support from HBM. Strain gauges are not part of our core business, so it's important to get the expertise in measurement technology. HBM has experience from offshore installations and has better tools than we would have access to. In the end, it is both easier and cheaper to use professional help, fully rely on the installation to be solid and to provide reliable measurement results." Arne Quappen, Project Manager at Minesto.

Read the case study
Monitoring of offshore wind turbine structures above and below the water line
Condition Monitoring Systems (CMS) is a way of ensuring the stability of your wind turbine structures and components. By identifying mechanical stress during monitoring we help you to:
Learn more about the stability of your structures and components.
Learn more about the efficiency of your structures and components.
Minimize unplanned downtime.
Prolong the life time of the wind turbine.
Our offer includes fatigue and structural monitoring of components and structures above and below the waterline, on long term or short term basis. A typical monitoring project includes installation, measurement and reporting as well as ongoing support.

As our engineers work according to the Ewea GWO and Norwegian Oil and Gas Association (previously OLF) standards you can also be sure we operate in the safest possible way.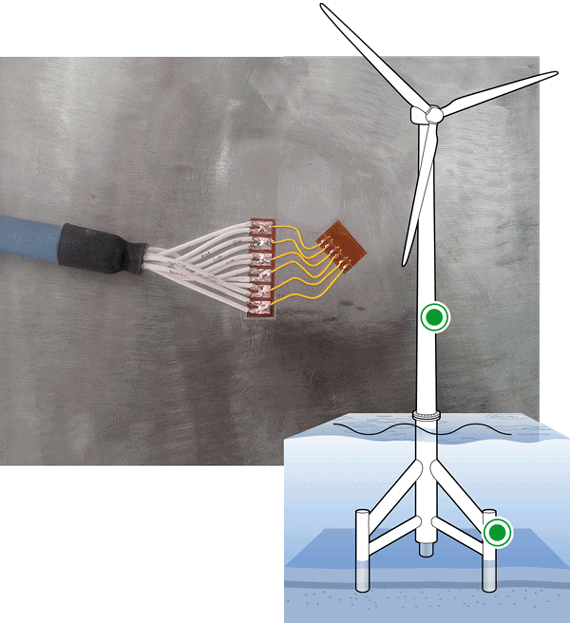 Validate FE analysis with live measurements
When developing new products theoretical methods like FEM or FEA (finite element method/analysis) are often used for life span predictions. It is also important to verify these theoretical calculations with live field measurements in order to make sure theory really matches reality. Field measurements can also provide a better understanding of the real conditions which the new product will be exposed to with regards to forces such as strain and loads.
We can provide:
Professional installations of measurement equipment
to achieve a reliable measurement chain.
Performance of field measurements.
Professional support along the way.
What would be the benefits for you if you would let our engineers validate your theoretical calculations?
Have a look at the customer testimonial below to give you an idea:

"It was the first time we used field measurements at this scale. To ensure that strain gauges were correctly mounted on our equipment, we decided to bring in specialists from HBM. The dialogue with HBM flowed very well. Going forward, we now have a much better idea of how we can take advantage of measurement technology", says Mats Idoff, development engineer at Bromma Conquip.
Civil Engineering: Bridges, tunnels, infrastructure
Would you like to check the current condition of your bridge, tunnel or other infrastructure related structures to find out how they are coping with load, stress and other environmental factors?

Perhaps you are considering changes such as an increase of the allowed maximum weight of the vehicles passing your bridge or in your tunnel? Then you possibly need to find out if your structure´s current condition would be able to cope with this change.
We offer:


Short term monitoring for determining the current status of the structure
Long term monitoring for evaluating the long term effects of the reality the structure is exposed to.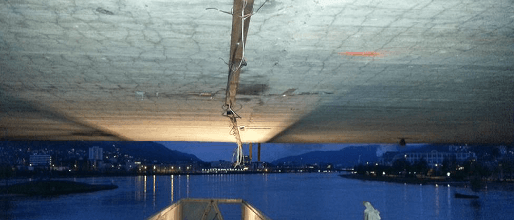 We offer professional installations of measurement equipment, performing the measurements and providing results together with an analysis for you to use as a basis of your decision making. We use both traditional electrical strain gauges as well as optical sensors and measurement units based on Fiber Bragg Grating technology from HBM FiberSensing. When for example applying strain gauges for monitoring a bridge the know-how within this topic is very important. This is also what HBM engineer Herman Lingefelt expressed during an interview for the case study of the Holmenbrua bridge project:
"It was essential that the surface of material where we attached the strain gauges was treated. We do this to make sure the strain gauges provide the correct measurements. Even wrong coarseness on the surface can result in the glue not transmitting the strain of steel correctly. In this case, we had to grind away the rust and then brush with sandpaper. It may seem simple, but it requires a lot of practical know-how", says Herman Lingefelt, project engineer at HBM.

Oil and Gas – FAT Testing and verification
When developing new products for the oil and gas industry Factory Acceptance Test (FAT) is normally implemented to the life cycle of the new product. The specification is usually created by the end customer through theoretical calculations which needs to be verified and documented. This is then done through tests to make sure the product is ready for installation at the end user´s facilities.
We offer:
Installation of measurement equipment for these tests.
Performing measurements, analysis and support on-site.
The accurate documentation of verification after the tests.
The benefits of hiring our engineers for this job are many. With our expertise we can help you get the tests done in a professional way, provide your customer with the correct documentation in time, thus contribute to future business for you.

See below what one of our oil and gas customers thinks about our services:
"HBM did an excellent job. They were fast, efficient, and even flexible when we needed additional help. We were pleased that HBM could assist us on short notice and help out with analysis and expert assistance during the testing" Gunleik Sandsmark, IRIS's project manager.

Calibration of HBM amplifiers and sensors
With joined forces of the HBM UK, Nordics and Benelux regions making up the HBM North West Europe Group our calibration potential for customers has been maximised.
We can offer:
onsite / vendor based calibrations
We also now have the possibility to offer NWE customers eDAQ service and calibrations conducted at the HBM UK office, and Genesis calibrations conducted from the Netherlands office.
All calibrations are Working Standard traceable to ISO10012, and establishes the line of traceability to international standards suitable for ISO 9001 audits.
If you require a DAkkS accredited calibration or calibration of HBM & non-HBM transducers this is available via HBM Darmstadt for the complete calibration service.

Service Level Agreements
- Extended warranty, support at site and by phone

Let HBM take away the burden of test and measurement management for you, by having a customised service level agreement formulated solely for your needs.
The service level agreement can contain numerous elements but is a customised solution to aid your everyday work.
HBM can offer:
Support on hardware and software with engineers and test reports.
Traceable Calibration to ISO 10012 (on Site) & DAkkS at our factory in Darmstadt + firmware upgrades as part of the process subject to customer requirement.
Extended warranty to cover HBM data loggers and amplifiers.
Dedicated Software Support and Software Maintenance offering free software upgrades within a 12 month period.
Tailored onsite training for HBM DAQ and software.
Local hardware replacement in hardware failure situations.
Commissioning / setup support of HBM DAQ and software.
Facilitated repairs post calibration if equipment is found to be faulty.
Preventative maintenance of all your HBM hardware.


Ensure your instrumentation is regularly maintained and operating at optimum performance!
If interested in a complete managed solution or if you have any questions, then please contact us for pricing, questions and your requirements.

More from Engineering and Services in North West Eurpoe
Case studies on Engineering and Services in North West Europe