Industrial Internet of Things - How to get your factory automation on track
The requirements for production automation are constantly increasing. Exacting requirements for both high quality and short cycle times mean that increasing numbers of measured values have to be processed ever faster. In order to reduce the load on the central controller in these cases, solutions with so-called decentralized intelligence are increasingly being used – including in the sector of industrial test and measuring equipment. But which technology should you trust?
Modern data acquisition has to be high-performing, flexible, simple to operate and easy to integrate. Furthermore, sensors and measurement systems are an integral element of Industrial Internet of Things (IIoT). They provide the key to improved production efficiency. Based on the data acquired from components, production plants and testing systems, dynamic models can be created that form the basis for optimization.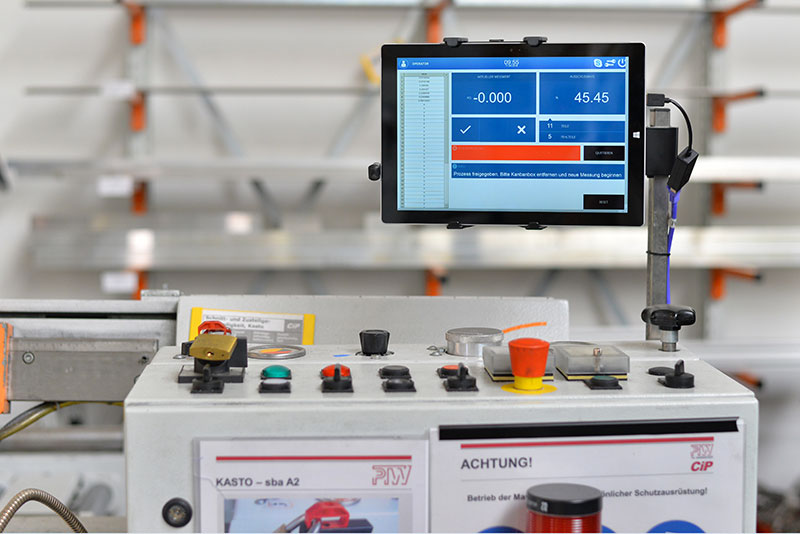 The following criteria play a decisive part in selecting the right technology for production automation:
Fast and accurate
Data acquisition systems are being further developed at breakneck speed in order to satisfy the requirements facing industrial data acquisition: the acquisition of measurement data, further processing and transfer to a higher-level controller are all happening at faster and faster speeds. Sampling rates of up to 19.2 kHz are now possible for all channels, for example. At the same time, amplifiers with a 24-bit resolution now guarantee extremely high precision of measured data, with a class accuracy of 0.05%.
Communicative
Communication with a PC or operating unit used for configuration or visualization is achieved via Fast Ethernet. This way, measurement data can be transferred at up to 100Mbit/s. In addition, the data acquisition system is equipped with a USB port, which can be used to save configurations on a USB flash drive and retrieve them later – for device backup, for instance. Peripheral units such as hard disks or barcode scanners can also be connected, to save quality data, for example, and include component identifications in these data.
Adaptable
Flexibility is key: The number of channels and selection of interfaces depend on the task at hand. Therefore, modern amplifiers consist of a mainframe, which can be equipped with different plug-in cards for handling a variety of challenges. The first slot is reserved for a communication card that enables integration within a higher-level automation system. The remaining slots are then available for amplifiers with four channels each and combination input/output cards.
At HBM, various amplifier modules are available for strain gauges (SGs), analog inputs and outputs, and digital outputs. This allows acquisition of the most frequently required physical quantities, e.g. force, torque, pressure, strain, temperature, etc. All modules are supplied with power via the mainframe.
Intelligent
Test and measuring equipment in industrial applications must integrate seamlessly in the automation systems' communication protocols. Since data volumes and speed requirements have grown over the past few years, Industrial Ethernet has become increasingly popular as a communication protocol in automation technology. In the past, this involved simple fieldbuses such as CAN or Profibus. Now and in the future, data acquisition systems must support the real-time Ethernet protocols EtherCAT, Profinet or Ethernet/IP, which can also transfer large volumes of data at very high speeds.
The amplifier can already process the measured signals internally and analyze them in real time. Therefore, the amplifier can now accomplish some of the tasks that would otherwise be taken on by the higher-level controller, such as mean value formation, peak value acquisition, and other mathematical computations, as well as PID controllers.
In addition to the channels offered by a data acquisition system, the user also has so-called virtual computed channels at his disposal. With the aid of powerful signal processors, all measured values and their derived values from the virtual computed channels can be transmitted to the machines and systems controller in real time at up to 10 kHz. This decentralized intelligence of the test and measuring equipment is particularly vital for applications with a very high degree of automation, in order to reduce failure frequency and the system load on the controller.
Which applications are decentralized measurement systems especially suitable for?
Typical applications for decentralized measurement systems such as PMX from HBM are found in production – in the monitoring of presses, for example. The range extends from tablet and powder presses to sheet metal presses as used in the automotive industry. These systems are also ideal for monitoring assembly and joining processes.
In large and complex machines and plants, in particular, important machine parameters have to be monitored frequently. This so-called condition monitoring helps to minimize downtimes and therefore reduce the costs incurred by production outages. Another classic application for decentralized measurement systems is the industrial test bench setup, where complex components are tested to determine their maximum load-carrying capacity and everyday suitability. Here, too, Industrial Ethernet has asserted itself in recent years. The same applies to quality test benches, which monitor the quality of finished products at the end of the production line. The storage in a database of the quality data acquired here also imposes more exacting requirements on the communication architecture of test and measuring equipment.
System operators also know how convenient smart devices are, and use them daily. Now modern amplifiers are also bringing this convenience into the field of test and measuring equipment – with intuitive software and operator technology like that so far offered only by smartphones and tablets. Standardized interfaces also provide convenient access to all device parameters for configuration, operation and analysis, via any web-enabled terminal device. The result is maximum investment security and future viability for users, and the possibility of overseeing applications via mobile terminal devices or the cloud.
Possible applications range from simply using the smartphone or tablet for the mobile display of data from measuring instruments to checking smart test benches in a company network, all the way to monitoring remote wind turbines via the internet. As well as the pure display of data, control elements can be used that enable the user to intervene directly in production remotely – to stop or start a process, for example. With these technologies, users can exploit the advantages of smart production to the full:
Decentralization through production systems that regulate and optimize themselves
More flexible production for individual products, so that a batch size of one is no more complicated than series production
Smart production processes that can be centrally monitored and adapted
Predictive maintenance of machines and robots in production
Generation of new service-oriented business models
By using IIoT technologies, companies can overcome global challenges, ever more stringent customer requirements, and dynamic market developments. By linking products and processes in a smart network and making data transparent and available in real time, the foundations are laid for decentralized production control. This permits greater flexibility in production, and therefore enhances competitiveness. High sampling rates, rapid data transmission and integrated intelligence (digital signal processors DSP and CPU) for relieving the strain on the higher-level automation solution are significant requirements facing test and measuring equipment used in the modern industrial environment.
Communication via real time-capable Industrial Ethernet protocols with high data transmission volumes is also playing an increasingly greater role. PMX delivers a data acquisition system that satisfies all these requirements, and is therefore suitable for a huge variety of tasks in industrial test and measuring equipment for product development and testing. And for documentation purposes, DAkks (national accreditation body for the Federal Republic of Germany) calibration protocols are supplied for all measurement cards in the PMX.