Z6R Bending Beam Load Cell – Robust, Easy to Clean, Compatible with Z6
The legal-for-trade Z6R bending beam load cell has been designed for maximum capacities ranging from 20 to 200 kg and is mechanically and electrically compatible with the proven Z6 load cell developed by HBM that has set standards worldwide. The Z6R eclipses the market standard and guarantees peak performance in applications with high requirements for hygiene or in harsh environments.
Free White Paper: Save Costs with Shorter Cleaning Times
Bending beam load cells are compact and versatile. The Z6 load cell with bellows has become established as a standard worldwide, with over one million of them having been produced. Now thanks to a rugged, innovative design, the new generation of bending beam load cells allows for shorter cleaning times.
In our free white paper you will learn more about the following topics:
The special structure of bending beam load cells
How rugged design ensures efficient production
How to achieve shorter cleaning times with state-of-the-art bending beam load cells.
Register here and get direct access to the white paper!

The stainless-steel enclosure is very robust and withstands extreme mechanical stress and aggressive media. The protected, dirt-repellent design without gaps or edges allows its use in food processing, production of pharmaceuticals or packaging of building materials, because the load cell is easy to clean and liquids roll right off.
Z6R reduces downtime and guarantees precise weighing in harsh environments, regardless of whether it is used in packaging machinery or batching scales. A real benefit for scale manufacturers and system operators!
Get the Z6R on your team to assure the continuity of your production!
Maximum capacity: 20 kg / 50 kg / 100 kg / 200 kg
Accuracy class (OIML): D1, C3
Approvals and certificates: OIML, IECEx, ATEX
Degree of protection: IP68/IP69K
Enclosure made of stainless steel
Withstands aggressive media such as cleaning agents
Explosion-proof versions are available
EMC tested
Withstands high-pressure cleaners


Precise results even in harsh environments
Dirt-repellent design without gaps or edges
Hermetically sealed
Electropolished surface
Liquids roll right off


Easy to clean: Suitable for applications with strict requirements for hygiene and for use in dusty environments
The dimensions are identical to those of the Z6 load cell
Moreover, the Z6 and the Z6R are electrically compatible. Replacement is easy


Reduced setup and downtime, due to easy integration and a long service life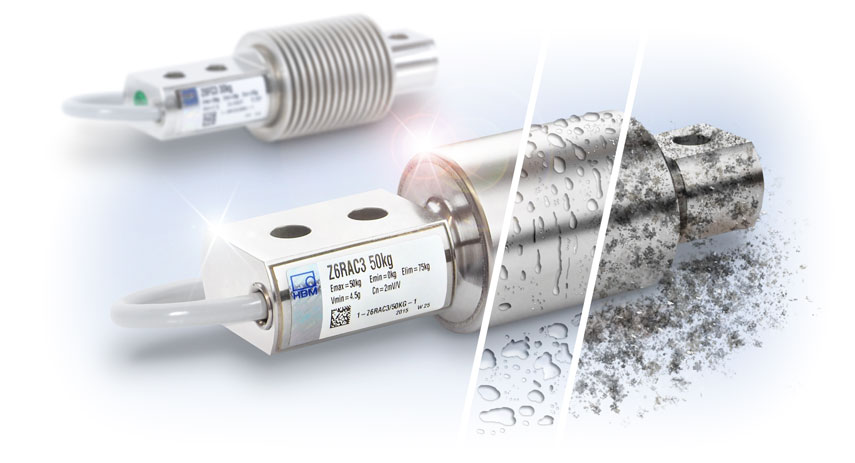 Title / Description
Language
Products
Language
Content Types
Data Sheets
Z6R - Caractéristiques technique
French
Z6R - Data sheet
English
Z6R - Datenblatt
German
Z6R - Folha de dados
Portuguese
Z6R - Hoja de especificaciones
Spanish
Z6R - Prospetto dati
Italian
Z6R - Технический паспорт
Russian
Z6R - 데이터 시트
Korean
Z6R - データシート
Japanese
Z6R - 数据表
Chinese
Brochures
HBM weighing technology for industry - Brochure
English
Industrielle Wägetechnik von HBM - Broschüre
German
Tecnologia di pesatura industriale della HBM - Opuscolo
Italian
Operating Manuals
Z6R - Operating Manual
German, English, French
Z6R - руководство
Russian
Certificates
EU-Baumusterprüfbescheinigung – BVS 13 ATEX E 108 X
German
EU-Type Examination Certificate – BVS 13 ATEX E 108 X
English
Z6R - OIML Certificate of conformity
English
Z6R - Test Certificate
English
Declaration of Conformity
Z6F, Z6R - EU Declaration of Conformity
Multilanguage
Explosion Protection: Declaration of Conformity
C16/C2/U2A/C2A/HLC/PW15/PW25/PW27/PW29/RSC/RTN/Z6/Z6R/Z16 - EU Declaration of Conformity


Ex IIG for zone 2 and Ex IID for zone 21

Multilanguage
C16/C2/U2A/C2A/HLC/PW15/PW25/PW27/PW29/RSC/RTN/Z6/Z6R/Z16 - UK Declaration of Conformity


Ex IIG for zone 2 and Ex IID for zone 21

English
C16/C2/U2A/C2A/HLC/PW15AH/PW25/PW27/PW29/PW4L/RSC/RTN/Z6/Z6R/Z7/Z16/PW10/PW12/PW15/PW16/PW22/PWS/SP4 - EU Declaration of Conformity


Ex IIG for zone 1 and Ex IID for zone 21

Multilanguage
C16/C2/U2A/C2A/HLC/PW15AH/PW25/PW27/PW29/PW4L/RSC/RTN/Z6/Z6R/Z7/Z16/PW10/PW12/PW15/PW16/PW22/PWS/SP4 - UK Declaration of Conformity


Ex IIG for zone 1 and Ex IID for zone 21

English
Explosion Protection: Safety Instructions
ATEX / IECEx Zone 1/21 – Ex i - Safety Instructions


II 2G Ex ia IIC T6/T4 Gb / II 2D Ex ia IIIC T125°C Db

English, German, Spanish, French, Italian, Portuguese
ATEX / IECEx Zone 2/21 + Zone 2/22 - Safety Instructions


II 3G Ex ec IIC T6/T4 Gc / II 2D Ex tb IIIC T125°C Db IP67

II 3G Ex ec IIC T6/T4 Gc / II 3D Ex tc IIIC T125°C Dc IP67

English, German, Spanish, French, Italian, Portuguese
Explosion-protected version available
Optionally available:
Ex-protection designs as per ATEX and IECEx