Validation of wind turbine foundation design, and long-term monitoring
Geotechnical challenges mean that accurate design validation for the foundations of offshore wind turbines, and monitoring them long-term, requires strain measurements that are the most robust and cost-effective available. Here is how HBM can help.
Water and electricity don't mix. So when measuring strain underwater and even beneath the soil line, particular care is needed to give strain measurement technology the best possible chance to survive. HBMs engineers can offer assistance in the design, installation and commissioning of measurement systems in such harsh environments. With a long track record in the offshore wind industry, it's clear that three areas are particularly important to consider;
Choice of technology; HBM offers both electrical strain gauges and optical strain gauges, both backed by reliable temperature compensation measurements, all commonly used to aid design validation and provide long-term monitoring of structural health in offshore foundations. Optical strain gauges are becoming increasingly popular in this particular application. The inherent resistance of the fibre-optic measurement to water offers an additional layer of security, in addition to the total measurement system typically having much less cabling - saving mass, installation time and money. HBM can design the optimum measurement array to cover critical measurement hotspots.
Quality of installation; HBM regularly runs training courses on strain gauge installation and the performance of the gauges (both optical and electrical) are hugely influenced by the quality of the installation. Either bonded or welded, issues such as surface preparation, soldering and programming of the relevant DAQ make a big difference to the quality data you'll get. HBMs engineers have, between them, hundreds of years experience in performing the highest-quality installation possible for foundations destined for the seabed. They also have the correct certification for working in the yard and offshore, to help with those important details and get you up and running.
Protective method; HBM has a proven method for protecting measurement points in the foundation of monopiles, jackets and gravity base structures used in the foundations of offshore wind turbines. Using carefully developed materials and following well-documented installation methods, our engineers will ensure that both electrical and optical gauges have the best chance of surviving the effects of piling, submersion in water, and the long-term geotechnical issues which can eat away at sensors offshore.
Benefits of Monitoring your Wind Turbine


HBM manufactures a wide range of strain and temperature measurement technology together with supplementary accelerometers, inclinometers and other sensors, well-proven in the offshore wind industry, coupled with class-leading DAQ and flexible software for integration into your system for long-term monitoring, or as a stand-alone package. Measurement inside the large bolts of large flange joints? Strain measurement beneath the seabed? Blade monitoring? We have experience in all this, and more. Having one experienced company deliver everything brings cost reductions and reduces complexity. Ask us for advice on what would work best for your foundation measurement application.


Service available everywhere
If you are short of strain measurement expertise, or manpower for sensor and DAQ installation and comissioning, HBM can provide engineers with the correct certification and considerable experience to ensure your system is installed quickly and correctly. Working at heights, working in confined spaces, working offshore, production of dependable reports and quality data – we do this, and at a competitive rate.


Experience and knowledge at your service
Sensor protection. How to get as many sensors to survive as possible? This is combination of chosing the right products, using engineers with the right experience, and using the best protective methods for those sensors in the harshest envirnments. Ask us how we do it.
Building the Right Monitoring System with HBM
HBM offers complete measurement solutions that include precision sensors and instruments for testing and monitoring components, rotor blades, towers and foundations. These can include both electric and/or optical strain gauges, sensors, data acquisition systems and software, as well data analysis services.
HBM's team of skilled and certified Project Engineers provides professional on-site installation of sensors* and support throughout the instrumentation in any environment. For projects that involve large sensing networks, HBM may also rely on the expertise of qualified partners to integrate its solutions.
*available services according to country
HBM measurement technologies and systems can identify mechanical stress on wind turbine components at an early stage and plan maintenance actions ahead of time, hence minimizing downtimes.
With more than 60 years of know-how and expertise in strain measurements and ESA (Experimental Stress Analysis), HBM can refer to a growing number of application references, involving major players.
Critical Data Instantly Available via Cloud
HBM cloud-based structural health monitoring package ensures access to data that is relevant to the structural health of infrastructures—such as bridges or tunnels—via the Internet at any time.
With the Cloud solution, users do not have to set up their own server for data storage and analysis. HBM uses the renowned Microsoft Azure platform to ensure that the most stringent standards for data security are met, including those under European law.
Download our free Literature
Applications and References


Structural analysis

Load monitoring

Blade design validation
Our Experience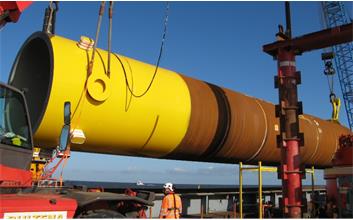 Embedding of optical sensors to scrutinize local buckling behavior of the trailing edge of a wind turbine blade
Our Experience



TEST AND MEASUREMENT APPLICATIONS
Our Experience