Bending beam load cells in harsh environments: rugged design ensures more efficient production processes
Bending beam load cells are frequently used in systems where production is subject to harsh conditions. The cells are exposed to a wide range of loads such as dust, liquids, and strong cleaning agents. To ensure that manufacturers can still obtain precise measurement results despite these difficult requirements, HBM offers special solutions and products – such as the Z6R load cell. It is especially rugged, compatible, easy to clean, and with its unique properties, it ensures an efficient production process.
These multi-talented load cells are active in a wide range of different production systems: bending beam load cells. Compact, versatile, and available with maximum capacity of 5 kilograms to 10 metric tons, they are suitable for numerous weighing applications.
"HBM set the standard for bending beam load cells in 1972 with the Z6," explains Stefan Schmidt, product manager for bending beam and rocker pin load cells at HBM. "The characteristic bellows protect the sensitive measuring section."
Bending beam load cells are used in many different industries, for example, in tank and process weighing. In addition to pharmaceutical, chemical, and cosmetics industries, weighers with bending beam load cells are used in building materials, food, and animal feed industries. This type of load cell is mainly used in platform scales, dosing and formulation systems, packaging machines, and checkweighers. To meet a wide range of requirements, these weighers must be especially precise, often even legal for trade – and rugged. In some cases, conditions during production are harsh or there are special hygienic requirements, for example in food production. In these cases, regular cleaning of the systems and load cells is required.
"HBM provides support for meeting criteria like these, for example with components that are easy to clean. The new Z6R is setting a new standard in this regard," says Stefan Schmidt. "Thanks to its protected design, it is especially rugged and easy to clean, which makes for efficient manufacturing processes."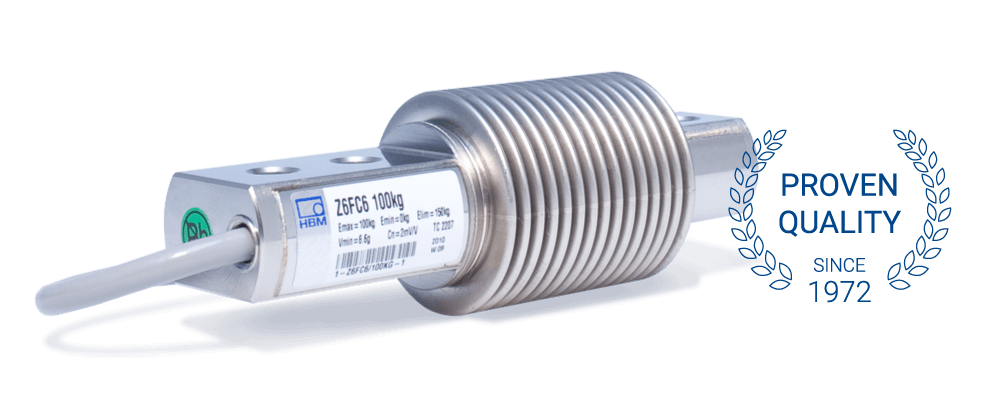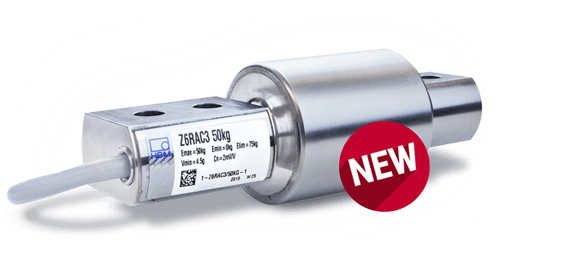 The special structure of bending beam load cells
Bending beam load cells are structured according to a uniform principle: The load cells' core component is strain gauges (SG), which are glued onto the metallic bar-shaped spring element of the cell. The SGs are connected to form a Wheatstone bridge circuit. If a force acts on the measuring body in the pressure direction, the measuring body is extended. This causes the strain gauges to stretch, changing their electrical resistance. In this way, it is possible to measure the elastic deformation of the spring element material – and determine the force acting on the spring element. These measured values are acquired by downstream measurement electronics and made available for further analysis.
The sensors are frequently made of alloy steel. In more rugged variants, the transducers are made of stainless steel. To provide effective protection for the strain gauge, the entire measuring section of the load cell is covered. Various protection mechanisms are used for this purpose: In some models, an infused covering agent protects the sensitive measuring section. When bending beam load cells come in contact with liquids or dust in challenging application environments, the measuring section is hermetically welded. Bending beam load cells with a maximum capacity greater than 100 kilograms often have a cup welded on, for example, the HLC load cells of HBM. Other load cells with maximum capacities between 5 kilograms and 1 metric ton, such as the Z6 bending beam load cell from HBM, have the characteristic welded metal bellows. These very thin-walled bellows hermetically seal off the measuring section and withstand external damaging effects.
Protected load cells withstand harsh conditions
Depending on the application, weighers and the load cells integrated into them are exposed to a wide range of risks, since harsh conditions include special kinds of loading.
First, dirt can have a negative effect on bending beam load cells; for example, dust and dirt in the building material industry and liquids in the food industry.
Additionally, the cleaning processes used to remove this dirt also affect the load cell. Harsh chemical cleaning agents are frequently used, which are often active for an extended period. Thus, there is a danger these agents will damage the system components' surfaces.
Cleaning teams also commonly use high-pressure cleaners to remove dirt. Load cells must regularly withstand a high-pressure stream of water. In the food industry, for example, weighers must also be thoroughly cleaned to comply with EU requirements such as "Good Hygiene Practice" or the HACCP (Hazard Analysis Critical Control Point) standard, which is mandatory for all food business operators.
System cleaning is usually associated with downtimes – and the more difficult the components are to clean, the longer the cleaning times last. Hence, HBM has set the goal of developing very rugged system components that are simultaneously easy to clean. One of these is the new Z6R bending beam load cell, which is built on a solid foundation. It is an extended variant of the Z6 load cell – the market standard in bending beam load cells for decades.


Z6R load cell: rugged design ensures efficient production
"The Z6 load cell is the standard because it was the first hermetically sealed load cell on the market," says Stefan Schmidt. "The bellows protect the measuring section and prevent water and dirt from getting inside the load cell."
Continuous enhancements and ongoing development of the Z6 led to the Z6R, with an accuracy class up to C3 for the measuring range of 20 to 200 kilograms. Thanks to its protected design, it is the first hermetically sealed load cell with a smooth cover tube instead of bellows, and with no seams at all. Dirt, for example, food residue, adheres less strongly to this load cell, and any potential hazards due to dirt pockets are reduced. The cover tube is made of stainless steel with a high chromium equivalent and especially thick walls – for additional protection. All of this makes the load cell extremely rugged and very easy to clean.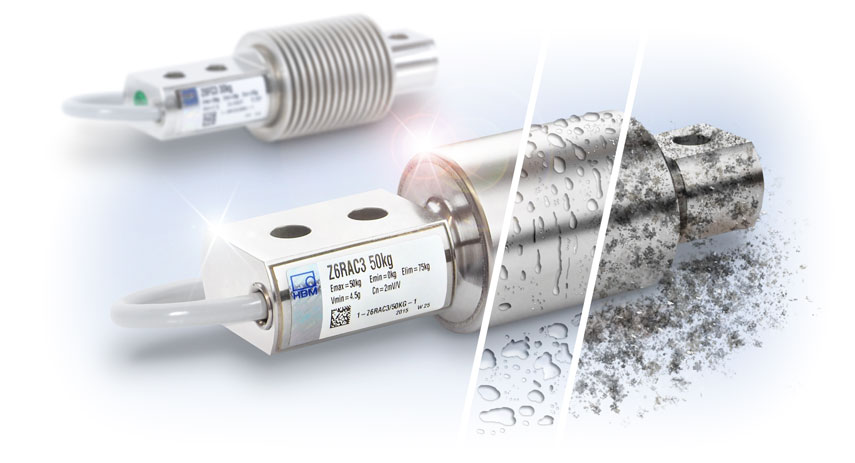 The new Z6R's surface is made of (electro) polished stainless steel and is, therefore, smooth to protect it against adhering contaminants. Liquids also pearl and quickly drip off. This makes it possible to comply with high requirements, for example, hygiene – while production processes remain efficient. This is a real advantage in the pharmaceutical, chemical, and cosmetics industries and in the production of building materials, food, and animal feed. Platform scales, dosing systems, and checkweighers are frequently subject to heavy demands in these industries.
"With protection class IP68/69K, the load cell is very rugged and even withstands cleaning with a high-pressure cleaner as well as exposure to aggressive chemical cleaning agents," explains Stefan Schmidt.
The Z6R load cell has ATEX and IECEx certifications for use in potentially explosive atmospheres. It has the same standard market dimensions as the Z6 and is also electrically compatible. Therefore, the Z6R can be quickly integrated into existing platforms, machines and systems, ensuring considerably shorter setup times and downtimes.
The new Z6R bending beam load cell:
Easy to clean – thanks to protected design
Protected dirt-repellent type of construction with no gaps or edges
Withstands cleaning with high-pressure cleaners
Measuring section is protected with hermetically welded cell body
Electro-polished surface prevents dirt from adhering

Rugged – for use in harsh environments
Precise to accuracy class C3
Enclosure made of high-grade stainless steel
Resistant to aggressive media such as chemicals and cleaning agent
Suitable for use in potentially explosive atmospheres
Tested for EMC resistance

Can be quickly integrated– easy installation and reduced downtimes
Dimensions are identical to those of the Z6 load cell
Z6 and Z6R are electrically compatible
Easily replaceable

Can be used for numerous applications – in many different industries
Ideal for use in legal for trade processes and tank weighing
Suitable for use in a wide range of industries including chemical, pharmaceutical, building materials, animal feed, and the food industry
Optimal for use in platform scales, dosing and formulation systems, packaging machines, and checkweighers