Get Your Results Faster – More Efficient Mobile Data Acquisition, Even in Harsh Conditions of Use
Vehicle and mobile machine developers are facing the challenge of having to reduce development times and, simultaneously, meet increasingly complex testing requirements for mechanical components. Cutting-edge measurement amplifier systems support faster and more efficient component and vehicle tests, even in the extremely tough conditions prevailing in mobile testing. However, what makes a measurement amplifier system "efficient"?
The following factors are key to fast and reliable measurements:
Fast access to the measurement results

Technologies that enable using less test equipment

Embedding of external data such as GPS

Protecting hardware and measured data

A modular structure that prepares the system for immediate use in different tests.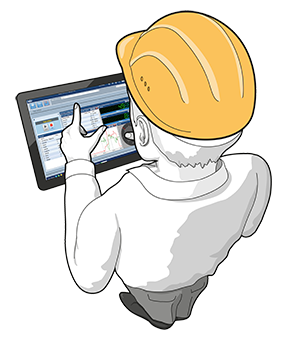 Fast access to the measurement results
Fast data analysis is one of the keys to mobile data acquisition. The process beginning from data acquisition and storage to analysis can be accelerated in various ways. Data recorders with pre-installed software allow on-site data analysis within the scope of interactive testing. This enables the test to be directly adapted depending on the measurement result or facilitates making an instant decision about whether a test needs to be repeated. Usability, visualization, and analysis options, as well as the possibility to convert data into other formats, are key factors.
Furthermore, data recorders with a web interface are available to facilitate direct access to the measured data, irrespective of the location. A measuring amplifier system that communicates via a web interface kills two birds with one stone. On the one hand, the test engineer saves time because he does not have to be permanently on site during the testing. On the other hand, the entire teams can access the data simultaneously and jointly work on a test object. This is particularly useful when tests are performed in harsh environments. Web interfaces can also be successfully used in long-term test runs.
The web interface is normally provided on the server side (i.e. the amplifier system). It allows access via the Internet, an intranet, or a local network on a web server in the amplifier. Thus, it enables access to the installed measurement software, irrespective of the installed operating system. Additionally, there is no need for an in-house IT department to integrate the system, as it runs in every common web browser.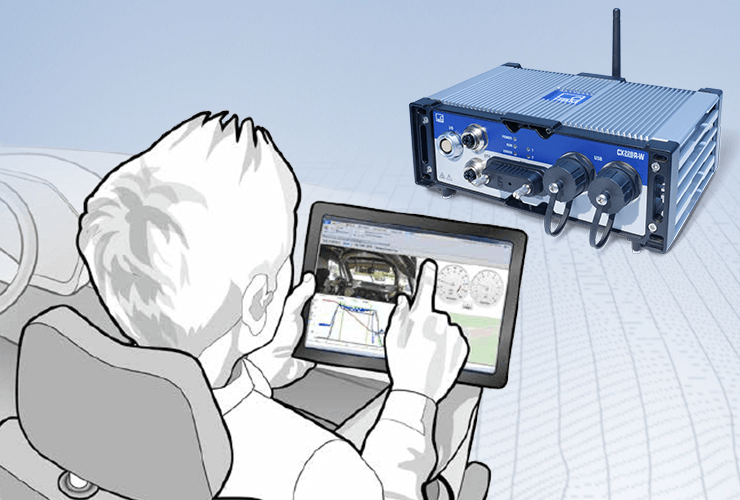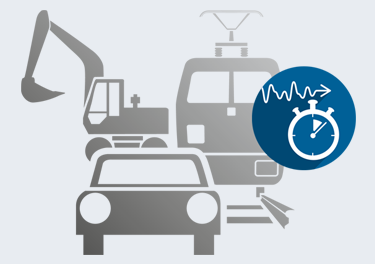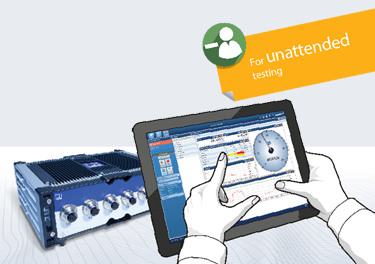 Swiftly connecting the sensors
An easy configuration of the test setup helps with increasing efficiency. This can be achieved, for instance, by using the transducer electronic data sheet (TEDS), a sensor database, or the offline parameterization feature. All these techniques reduce the sensor connection setup time and enable users to spend as little time as possible on the measurement setup and, thus, to minimize the setup times. What do these methods mean in detail?
TEDS (Transducer Electronic Data Sheet)
When using sensors and transducers fitted with a TEDS chip, they can be connected to the amplifier in a few seconds. All the sensor's characteristics and parameters are stored in the electronic data sheet and can be instantly retrieved by the amplifier. The measurements can be started immediately following the zero balance.
Sensor database
Many users also work with a sensor database. It is a comprehensive database containing all the sensors being used along with their characteristics. The sensor database can be swiftly imported into the measurement software, for instance, catman from HBM, in order to allow fast parameterization and be immediately ready for measurement.
Offline parameterization
The offline parameterization method enables the next test setup to be prepared while the amplifiers are still occupied with an ongoing test. You can configure your next test, without having your amplifier actually available. The offline parameterization, in turn, can be performed in various ways. One way is to use an emulator. In this case, the hardware is emulated while the standard measurement software is used. An alternative approach would be to use a special format in Microsoft Excel. This is especially interesting when primarily databases are used. In this case, all the information pertaining to the test is uploaded from different databases to the Excel file, which, in turn, is imported to the amplifier system for beginning the measurement later.
Embedding external data (e.g. GPS, fieldbuses)
Another important aspect is that the measurement amplifier system can be linked to other data sources like GPS, cameras (video), and vehicle buses. This enables important additional information, for instance, for post-processing and data analysis, to be recorded alongside the measured data. Currently, the major "external" data sources are as follows:
GPS (Global Positioning System)
The location and other data, such as the speed of a vehicle under test, are tracked, the data is analyzed and visualized on a map. This enables links to be established easily. For instance, between a specific test event and the position at which the vehicle was located at this time.
Video
An increasing number of tests are performed using video cameras. Video footage is especially useful when specific or extreme test events have to be analyzed. In this case, an image and measurement points can be easily merged to enable, for instance, examining whether a vehicle has hit a bump in the road.
Fieldbuses
Modern vehicles and mobile machines use an increasing number of on-board sensors as the standard. The data provided by these sensors is transmitted by standardized fieldbuses and can also be used while performing mechanical tests. This means that it is not necessary to connect additional sensors because the functionality is already available. However, a challenge that fieldbus users often face is that, prior to carrying out a test, they often do not know which data types will be relevant later. The solution, in this case, is that all the raw data is recorded and only decoded later when the data is analyzed.
Protecting hardware and measured data
Tests are increasingly performed in the "real" world, often in harsh environmental conditions. This is particularly true for the prototype testing phase, which ensures that the vehicles can also be used in extreme weather conditions. To facilitate these tests, the measurement amplifier systems, too, must be able to withstand the extreme temperatures for ensuring extreme data security. This is also owing to the fact that such comprehensive tests cannot be repeated for efficiency and cost reasons. Therefore, the amplifier systems and memories must withstand cold weather, shocks, and vibrations.
HBM's SomatXR is a measurement amplifier system that meets the efficiency requirements of cutting-edge test setups (including the web interface) and offers a high level of robustness. What does robustness actually mean? Firstly, the mechanical characteristics need to be considered: The modules have been designed for use in a temperature range from -40°C to +80°C. It is also possible to obtain measurements passing through the dew point because the modules are completely sealed so that there is no condensation inside. The SomatXR modules have the IP65/67 degrees of protection and are shock-proof up to 75 g (in accordance with the Military Standard 202G). These are only (a few) mechanical standards. The robustness in terms of software and data security is at least as important.
SomatXR CX23-R Data Recorder for Unattended Testing
The SomatXR CX23-R data recorder for unsupervised testing runs a stable operating system. The data format itself is also highly robust because it does not use any storage sequences. Even if data is still being uploaded to the recorder, the first part of the measurement can already be downloaded. Further, the web interface also ultimately provides safety. Data can be accessed from anywhere, irrespective of the number of users who access the data or the operating system they use.
SomatXR CX22B-R Data Recorder for Interactive Vehicle Tests
The SomatXR CX22B-R data recorder, on the other hand, has been specifically designed for interactive vehicle tests. The catman measurement software is pre-installed on the recorder and the data is stored in the .bin format. Converting it to other formats is easy as well. The CX22B-R acquires data from the SomatXR modules using an Ethernet connection. The FireWire simultaneously allows the data recorder to be used as a gateway for direct data transmission to the PC. Both centralized and distributed measurement systems can thus be implemented.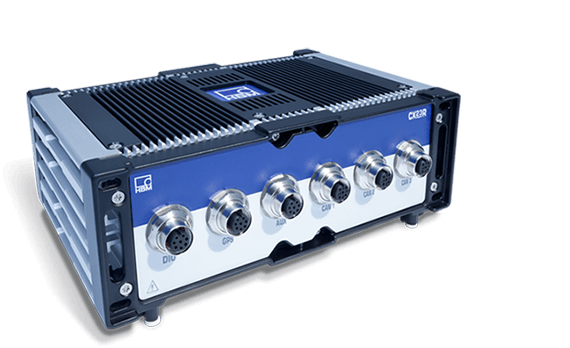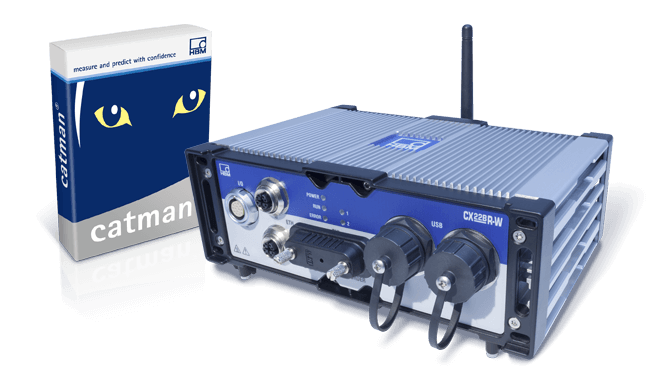 Facing varying test requirements
Modern amplifier systems combined with software allow performing significantly more efficient mechanical tests of vehicles and machines, even in extreme usage conditions, as demonstrated by the SomatXR. There is another point that needs to be considered – the system's modularity or flexibility. A flexible and efficient measurement amplifier system should be suitable for use in many different tests, i.e., for both small-scale component tests during the development stage with relatively low channel counts and large-scale tests of complete systems. This means that an amplifier system must be capable of being enhanced and adapted to increasing demands.
The SomatXR meets this requirement owing to its modular design. Every amplifier module can be individually connected to a PC and controlled, for instance, with the catman or other measurement-amplifier software. Further, it can also be combined with multiple SomatXR modules to provide a complete system that facilitates data transfer via a PC or a data recorder. Moreover, SomatXR modules can be integrated into the universal QuantumX amplifier system. Additional data sources such as GPS, cameras, and fieldbuses can be easily linked, and test automation systems can be controlled via analog outputs or EtherCAT.
Conclusions: What really matters in mobile tests
The testing of components and vehicles plays a vital role – nevertheless, it must not delay the development process but needs keep pace with its accelerated cycles. In this context, selecting the right measurement amplifier system and matching software is key to facing this increase in efficiency. The SomatXR ultra-rugged data acquisition system forms the backbone of cutting-edge test setups due to its web interface, integrated analysis software, convenient embedding of external data sources, support of sensor databases, TEDS, offline parameterization, and modular concept.