Interview: Analog versus Digital – What are the current trends?
In the following interview, Michael Guckes, product manager for industrial amplifiers and software at HBM, answers questions regarding the future of digitalization and how to transition from analog to digital measurement chains.
Mr. Guckes, what are the current trends in industrial automation?
"The digitalization of processes is a megatrend in industrial automation. People want to make their production lines and test-stands smarter and more autonomous. Their final aim is to have the machine automatically control itself to reduce human error, improve throughput capabilities, and speed up the overall processes."
Why are companies switching to digital measurements and what are the benefits of doing this?
"Companies want to take advantage of the increased quality of the processes that digital measurements can provide. A digital smart factory needs fewer employees and can be much more flexible in terms of variable production items and lot sizes, which increases cost efficiency.

The mass customization of products is another megatrend; the number of products in a lot decreases while the number of unique production jobs increases. Economically, this is only feasible with digital production equipment and digital measuring chains. For example, HBM's industrial amplifiers fulfil the requirements that are needed to implement these processes."

Michael Guckes is product manager for industrial amplifiers and software at HBM with over 10 years of experience in industrial process control.
How can you transition from analog to digital?
"The first step in transitioning from analog to digital is investing in smart sensors. Sensors control machines and provide feedback to the control systems and users. Modern digital sensors deliver more than just the measuring signal. They also deliver diagnosis data by monitoring themselves and the underlying processes. We call this health-monitoring."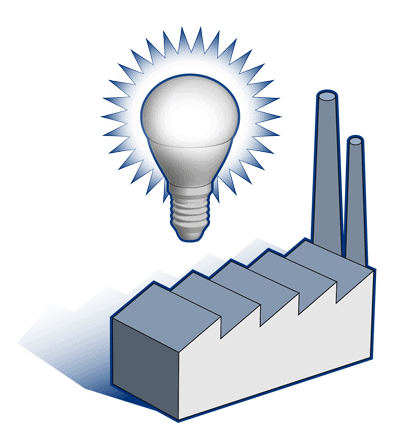 What are the benefits of digital processing?
"With the data from the sensor and the diagnostic function, we can create databases and use them for further analyses and system updates. This leads to another megatrend: Big Data! When we have enough data collected, we can use intelligent algorithms to detect failures in products or in the production machines and tools. We can control the process time and reduce it by doing an in-depth analysis. This enables the user to optimize production flows. The end goal of predictive maintenance is to avoid machine downtime by scheduling timely service and maintenance."
What industries utilize digital measurements?
"Production plants with sequential processes and machines needing continuous monitoring can benefit greatly from digitalized processes. In condition monitoring for electrical power-generators, structural health monitoring for buildings and bridges, and so on, the processes are implemented to run faster, more accurately, and to require less manual labor. Because highly technically qualified employees are becoming rare, machines must become more intelligent and self-controlled to compensate for this shortage in man hours."
Why are many companies still holding on to analog measurements?
"People still use analog measurements because they are used to it. It is easy to integrate, and technicians are experienced in handling analog voltage or current signals. Digital signals and fieldbuses are a bit more difficult to handle at first; users need training to do software-coding for digital plc-controlled production and test-machines. Therefore, the first step towards going digital seems to be a barrier, but once you look at the benefits that digitalization brings (from reducing cables and IO-hardware to health monitoring), there is only one way forward. Some companies have implemented digital processes but still use some analog signals to monitor relevant machine information, which serves as a nice middle ground. However, the future is digital."
How has HBM improved measurement technology?
"HBM produces digital sensors and measuring electronics with built-in smart functions for Industry 4.0 applications. Our precise sensors send reliable diagnosis data and feed the control systems with information about the health status of the machine. In turn, the information is used to make decisions about how the machine systems will react. These "smart functions" can do pre-calculations of the measurement and diagnosis and send it to the machine control and process-data server. This makes the process safer and relieves the machine control which can use its full processing power to run the plant instead."
What do you currently provide that is already moving in that direction?
"HBM has expanded its portfolio in industrial force, strain, and torque-sensors as well as in industrial amplifiers that offer high accuracy, smart functions, and modern real-time interfaces. The new industrial signal conditioner called ClipX is our highlight. It offers an outstanding accuracy class of 0,01, modern interfaces and a web interface that also allows remote access and control.

HBM will continue developing measurement technologies with smarter sensors and amplifiers. We are investing in smaller and more cost effective sensor and amplifier designs. The amplifier systems will, over time, become even more digitalized by reducing the analog components. We are also spending more time and effort in implementing intelligent algorithms to simplify the controlling of parameters for the end user."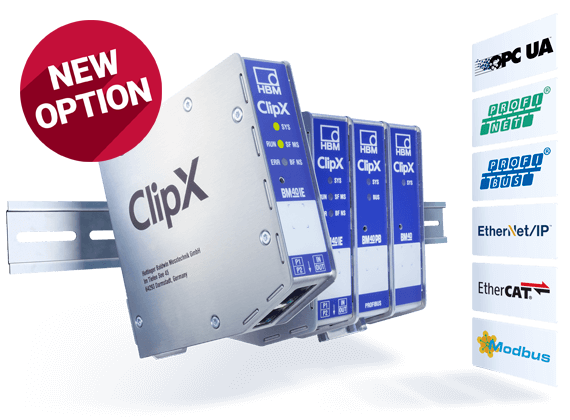 ClipX is the new one-channel signal conditioner from HBM. With an accuracy class of 0,01, odern interfaces, and an intuitve web interface, it is the perfect choice for production processes and test stands.
What other services do you offer to help customers transition to digital measuring?
"HBM has a highly competent customer service division. We offer services on site; for instance, the installation and setup of measurement chains. Another advantage is the development of customized sensors and software for field applications. These systems range from single measurement chains to large measurement systems with over 10,000 channels."
What areas of research is HBM investigating to further develop their measurement technology?
"HBM sees the future in cloud-based solutions. This means that HBM offers the measurement chain and the data-server for customized measurement solutions that cover the entire measurement chain."
Thank you Mr. Guckes for the very interesting insights. Digitalization indeed offers many opportunities for companies to increase efficiency in production processes and test stands. In case of further questions, please do not hesitate to contact Mr. Guckes directly at michael.guckes@hbm.com.