Thermal Validation by HBM: The Complete and Safe Measurement Chain
Thermal analysis and thermal durability testing are crucial validation steps in the development process, prior to releasing a component, an overall powertrain, or a vehicle to the market. Thermal validation impacts not only the packaging, cooling and heating systems but also the overall life-time, reliability, and environmentally safe operation.
A safe measurement chain and operation is crucial for analyzing thermal properties. The critical parts are energy storage/BEV battery, fuel cell, electronics, electric drive, auxiliary components, and all connecting cables. Thermal analysis is mostly based on Computer Fluid Dynamics (CFD) simulation models. Thermal validation and testing are mostly done in climate chambers for thermal extremes and in performance test stands.
HBM can combine thermal validation with electrical and mechanical testing, environmental simulation, data analytics, and more, providing comprehensive overall results that you can trust. As a one-stop shop provider for the complete measurement chain and data analytics software, we understand the need for accurate and reliable thermal data and offer all aspects involved in determining phase transitions, heating or cooling and dimensional changes of parts under test along with all necessary sensor types (optical or electrical) for differential thermal analysis, thermo-mechanical analysis, dynamic mechanical analysis, and thermal flow.
The Complete Measurement Chain – Provided by a Single Source: From Sensors to Data Acquisition and Data Analysis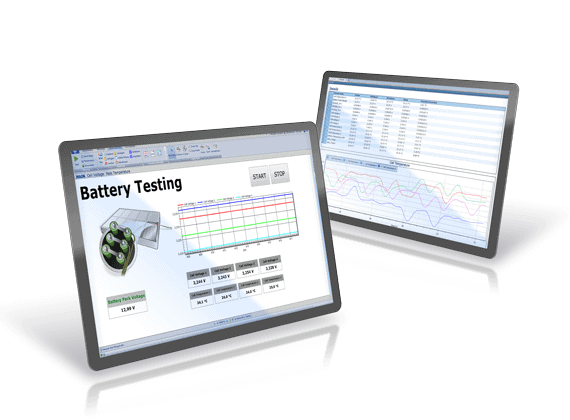 With the increasing voltage levels of electric applications, safety-related risks and their potential to be life threatening must be considered before setting up a measurement chain.
Thermocouples are widely used for temperature measurement and have their advantages. Highly responsive and capable of working in a wide temperature range, they are highly accurate, small, cost efficient and capable of instrumentation in a safe and isolated way.
Multiple thermal measurement integrated in a single optical fiber gives you the highest safety, 100% electro-magnetic noise immunity, and best integration flexibility. It is clearly the most suitable solution for electric powertrain applications.

Data Acquisition and Integration
With the QuantumX data acquisition system, we are offering a modular platform for all necessary inputs for measuring thermal, electrical and mechanical parameters apart fromalongside communication with the Battery Management System (BMS). Build your own modular solution with

Equipped with our contact-safe thermocouples, optical measurement chain and current transducers your measurement chain will be complete for ongoing measurements in the electric environment.
Plug-and-play sensors
Build up hybrid setups: optical/electrical

What Our Customers Say About Us
"Our innovative wind power systems promote the clean energy revolution. To achieve this, we need partners that join us in breaking new ground. The HBM experts enable us to get optimal results from our tests. They have always assisted us quickly in our projects worldwide, due to their global presence."

– Martin Bode, Senior Chief Engineer at aerodyn engineering

Going the Extra Mile: Supplementary Service and Support
Our service and support team will assist you with all issues pertaining to test and measurement applications:
Turnkey solutions in project engineering
Thermal Analysis Knowledge Base: Tips and Tricks for Getting into QuantumX
Hands-On Training: Seminars by the HBM Academy for Your eMobility Application
Individual Consultation – Let's Get in Touch!
We love solving difficult challenges. If you are struggling and need help, do not hesitate to contact us for a nonbinding discussion about your measurement task.
Fill in the form below and indicate whether you would like to be contacted by mail or by phone.
Read More About Our eMobility Solutions