Printed Circuit Board (PCB) Test Kit: Fast and Easy Testing
The reliability of complex electronics in mobile use or harsh environments is a result of the experience gained in development and intensive testing. At HBK, we have made it our business to make mechanical durability and reliability testing based on strain measurement on printed circuit boards as simple and fast as possible.
The printed circuit board test kit contains all the tools and aids required for measuring strain on PCBs in compliance with IPC/JEDEC 9704, from the strain gauges to the measuring bridge amplifier and the data acquisition software showing the results in a live display.
In addition to the matching pre-wired strain gauges and their installation aids, the kit contains a QuantumX bridge module and catman software with a ready-to-use testing project including a pre-configured test certificate as a report in Microsoft Word format. The package includes one year of software maintenance.
Order No: 1-PCB-TESTKIT
Technical assistance for the installation of the strain gauges and the measurement setup and implementation in catman is available on our website.
Includes all materials for fast and easy strain measurement on printed circuit boards
Portable case including all material
Flexible installation in different locations


Enables fast, easy, and flexible setup - also in different locations.


Optimal support for every measurement task.
Fully compatible with all QuantumX modules and catman software packages
All products available off-the-shelf for reordering


Can be upgraded with HBM standard products.
PCB Test Kit Contents
Product Name
Material Number*
1 Adhesive Tape
1-KLEBEBAND
1 Flat Brush
1 Folding Magnifying Glass
1 Graduated Ruler, 150mm
1 Hard Rubber Erasing Pen
1 Pair of Toothed and Pointed Scissors
1 Wide Pair and Pointed Pair of Tweezers
1 Flexible Ruler
1 Dental Probe with Bent tip
1 Cementa Spatula
1 Cutting Pliers with wire strippers
1 Petri Dish 60/15
1 Scalpel holder, plus 6 blades
25 g solder, Ø1 mm
1 Roll of Scotch Tape
1 Rubber
1 HBM Pen
1 Sheet each of Sand Paper Grade 180/220/360
*Contents with material numbers are available for reordering in the HBMshop.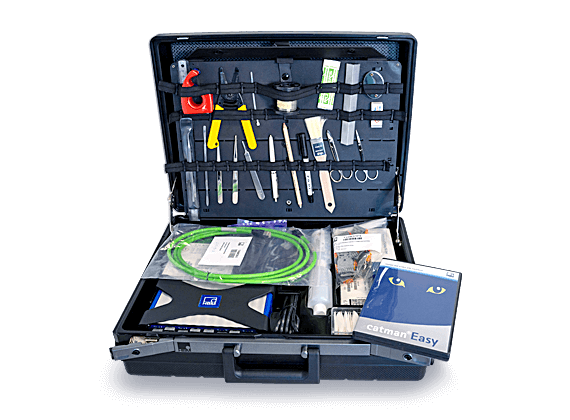 Request further information and your non-binding quote by our HBM Sales Engineers or directly buy the PCB Test Kit at the HBMshop.
A Simple and Reliable Measurement Chain
The portable and easy-to-use PCB Test Kit contains in addition to the matching strain gauges in compliance with IPC/JEDEC 9704 standard and their installation aids, a QuantumX bridge amplifier module and a ready-to-use measurement project in catman DAQ software allowing to automatically generate a test report or certificate. From sensor to results: simply "plug and measure".


What Our Customers Say About Us
The PCB Test Kit from HBK convinced us right from the start due to its comprehensive range of components needed for PCB testing. Competent advice, proven high signal quality, individual hands-on training, and fair pricing were also decisive for us. We feel understood by HBK and can recommend them as a strong partner.
With catman Easy it is possible to calculate strain gauge stress analysis during the measurement. For additional post process math and analytics we recommend an upgrade to catman AP.