Testing Drive Systems of Trains on a Highly Efficient Test Bench Delivers Real Time Results and Saves Time and Manpower
The multinational company Alstom SA operates in rail transport markets worldwide. As leader in the fields of passenger transportation systems, signalling, and services, the company is well known for products such as the AGV, TGV, Eurostar and Pendolino high-speed trains, as well as suburban or regional trains, metros and trams.
In Charleroi, Belgium, Alstom has two centres of Excellence for R&D and project management with 500 engineers and 100 researchers, one of them testing traction systems and auxiliary converters.
With the help of HBM engineers, Alstom Charleroi has developed a new data acquisition concept for testing traction systems and auxiliary converters. For the first time in the history of the Charleroi site they are using an HBM eDrive solution.
The HBM eDrive solution combines the advantages of precise, cycle-accurate test and measurement equipment with those of convenient test-bench development. This concept facilitates easy integration of sensors into the measurement system and controlling tests based on acquired data. Thanks to the formula database, the test bench engineers can quickly and easily create individual calculations – for customizable measuring and testing tasks.
With the new HBM eDrive solution the Alstom engineers can save up to 50 % of their time to conduct a complete validation test.
While the automotive industry still struggles with the transition to electrification, electric drives have been the standard in rail vehicles for over 120 years. Moreover, the requirements for motor performance and efficiency are continually rising – especially in times when climate targets have to be achieved. Hence, rolling stock makers are continuously testing their traction system and auxiliary converters to be most efficient. At the same time, there is a growing need for new test-bench concepts to test these new motors with the required accuracy – in shorter time. The challenge is to obtain reliable results while precisely controlling test processes.
Alstom, one of the top 3 world´s largest producers of rolling stock, also applies these requirements to its own test equipment.
Problem
Alstom Charleroi tests traction systems and auxiliary converters to simulate the train operating under real conditions. This requires precise test bench equipment that provides reliable data, allows for fast integration and is easy to work with. Before using HBM's eDrive solution this type of test was done using one oscilloscope (up to 8 channels), one high speed recorder (up to 16 channels), one spectrum analyser and a lot of off-line post processing, which was quite time consuming.
Solution
Alstom now uses HBM's eDrive solution (Genesis HighSpeed data acquisition system along with the Perception software), which quickly and reliably processes large amounts of data. Using a freely programmable interface, Perception exchanges measured data with LabView software, which controls the individual test-bench components and the automated test processes.
Result
Thanks to the modular concept of the HBM eDrive solution, a wide range of different sensors can be integrated into the measurement system simply by plug-and-play. The HBM eDrive solution reliably acquires measurement data, calculates results in real time, and makes them available for test-bench control. User-defined calculation formulas can be created without any programming knowledge and can be applied to measured values in real time; and to saved data in post process. This allows Alstom to do a complete test in one third of the time and save personnel costs.
"HBM's eDrive Solution Is a Real Game Changer"
The Charleroi site of Alstom is one of the main places for testing converters for traction drive systems and for auxiliary systems for the entire Alstom train fleet. "At this site we validate the standard drive systems for Alstom products. If we get a new order with different requirement for the drive systems we are testing the new requirements here on our site", explains Jean-Francois Gregoire, validation senior expert at Alstom. "Before we started with the HBM eDrive solution on our site, we were basically using one oscilloscope (up to 8 channels), one high speed recorder (up to 16 channels) and one spectrum analyser - and a lot of off-line post processing and calculating, which was not only time consuming, but resulted also in high labour cost. The HBM eDrive solution is exceptionally easy to work with and all processes run in parallel and in real time. This makes the development processes of our test bench software much easier and less complex.
To me, the HBM eDrive solution is a real game changer for three reasons:

We are saving about two-thirds of testing time. This makes a huge difference.
We can always do post computation offline without returning to the test.
We have a greater depth of detail for validation, since we capture every signal that we need at the same time.

What comes on top is: Personnel costs are considerably lower with HBM's eDrive solution in comparison to the previous system."
Challenge: Testing a Drive System With a Dual Voltage System
Most of the trains are operated using a single-voltage supply with traction converter and an auxiliary converter. When Alstom received an order for a new double-deck train from Belgium railways, the converter for the traction motor, the traction motor itself and the auxiliary systems had to be validated for its performance on a system level. The Belgian railway is operating with a dual voltage system with 3 kV and 25 kV input voltage, which presented an additional challenge.
In this case Alstom had to measure 21 signals simultaneously. In addition to the input signals (like voltage and current), all the output signals (like phase current, DC Voltage, speed and torque) had to be measured, too. On the auxiliary converter, 3 phases current and voltage were measured, plus the DC current and voltage on the battery charger system.

"Together with the help of HBM engineers, we developed a new data acquisition concept for testing traction systems and auxiliary converters. For the first time in history of Charleroi site we are using an HBM eDrive solution. With the new HBM eDrive solution we can now measure all signals with one device. For us it is important when validating a system that it meets our requirements in terms of speed, torque and current. We run the system from minimum to maximum speed and we record everything. The biggest advantage with this solution is that we capture all measurements in just one run. In the past it took us 4, 5 or even 10 different runs", explains Jean-Francois Gregoire. "For example: for this test we took 1,311 records within two months. Without the test equipment of HBM and with the old system that would have taken between 6 and 7 months. This is the reason why we bought two more HBM eDrive solutions since then. One of the new systems is used to validate the auxiliary system for Paris Metro. And the other is used for traction drive system for Mumbai Metro."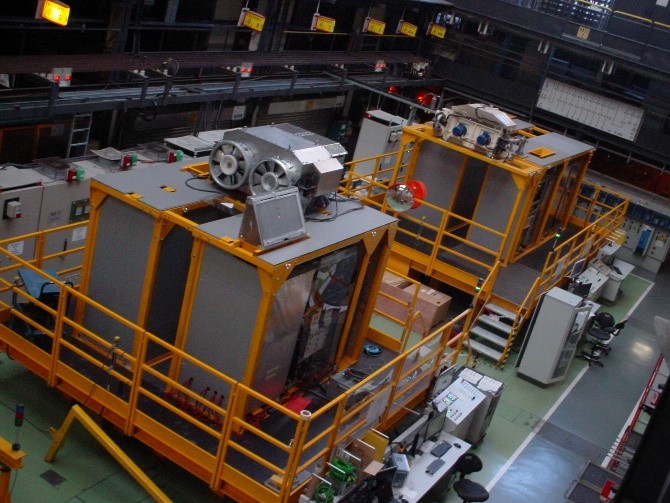 Modern Trains Require Modern Test Bench Concepts

To ensure precise tests for the new electric drives, Alstom worked with HBM experts to optimize the test bench's measurement chain.
"We chose the combination of Genesis HighSpeed and Perception software, as well as the LabVIEW development environment because Perception and LabVIEW* are very easy to connect with an interface,"
explains Jean-Francois Gregoire, validation senior expert at Alstom Charleroi.
"Thanks to the HBM eDrive solution, we can also integrate a wide range of different sensors for current, voltage and torque into the measuring system quite easily, simply by plug-and-play, like inserting a USB device in a computer. Integrating vibration sensors as part of electrical measurement equipment is possible without any problems. That saves us time (two-thirds of the staff time compared to the old version) and resources in setting up the test bench."
A Perfect System for Extremely Fast Real-Time Tests
To determine all measured data securely and reliably, the individual components of the test bench must work together perfectly. The sensors acquire measurement signals such as current, voltage, temperature and torque and forward them to the data acquisition system.
The Alstom eDrive configuration consists of a Genesis HighSpeed GEN7tA data acquisition system, three GN610B input cards, an additional board for high-speed signals up to 100 MS/s, the Perception software, and the T12 torque transducer.
The digital signal processors (DSPs) on the cards process the measured data and calculate results in real-time. The calculated measurement results are forwarded to LabVIEW for movement control using a freely programmable software interface. In parallel, HBM's Perception software saves all the acquired raw data.
"Measured data and real-time computed results are acquired, stored and forwarded simultaneously. That's an enormous advantage for analysis," emphasizes Jean-Francois Gregoire. Another advantage is this: since all the raw data can be saved, we can also use it for more extensive post-process analyses." In addition to the cycle-synchronous individual results, continuously measured data can be linked in the Perception formula database to be processed. No programming knowledge is required for this either.

"There is one more advantage: We can also create our own formulas for the calculations in Perception and save them in the formula database. These formulas can be used in both post-process and real-time calculations in the DSPs, without any programming of the respective computer architecture."

"That´s the reason why we have such a big time improvement because almost everything is done automatically."
Customer-Focussed Easy Sensor Integration and Channel Synchronization
"The combination of LabVIEW and HBM's eDrive solution really does offer us many advantages," says Jean-Francois Gregoire. "the hardware synchronously records measured data of sensors and allows for sample rates up to 2 MS/s for up to 51 power channels. So we can easily connect more sensors if required. The eDrive solution automatically synchronizes the sample rates of the different channels and input cards. This considerably reduces users' overhead."
Alstom engineers and developers received customized support from HBM's engineers as they integrated the data acquisition system into their existing test bench environment. "We appreciate the support of HBM experts to help us fully benefiting from their system. Perception is an efficient software program that acquires data reliably. Thanks to the introductory training from HBM, we quickly became proficient. And because Perception is so easy to work with, we are able to define measurement sequences for our specific purposes," explains Jean-Francois Gregoire. "In my time with Alstom the introduction of the HBM system has been really a game changer."

* LabVIEW is a trademark of National Instruments. Neither HBM, nor any software programs or other goods or services offered by HBM, are affiliated with, endorsed by, or sponsored by National Instruments.
What is HBM´s eDrive solution?
HBM's eDrive solution simplifies the testing of motors and inverters by combining multiple test systems into one single source of truth. It contains the complete measurement chain from best-in-class sensors to power analyzers paired with dedicated analysis software to accurately measure electrical and mechanical power. It can be expanded for both additional electrical or mechanical measurements - depending on customers unique requirements. It allows easy and quick test audits by customers or regulatory agencies to simplify testing strategy, to cut costs, and to shorten development time.
Leading the way to greener and smarter mobility worldwide, Alstom develops and markets integrated systems that provide the sustainable foundations for the future of transportation. Alstom offers a complete range of equipment and services, from high-speed trains, metros, trams and e-buses to integrated systems, customised services, infrastructure, signalling and digital mobility solutions. Alstom is present in over 60 countries and employs 38,900 people.
In Belgium, Alstom deploys its activities around two centers of excellence, one dedicated to traction and energy recovery systems and the other to signalling solutions including the European standard ERTMS. Alstom employs 1,250 people in Belgium, including 500 engineers, and manages 20 R&D programs for smarter and greener mobility, in collaboration with universities, SMEs and start-ups. The teams manage over 100 projects on the five continents.