Every year a team from the aeronautical association "CLES-FACIL" develops an experimental Rocket in order to research key scientific questions. In a project to calculate the force that is exerted upon a rocket through the opening of a parachute, "CLES-FACIL" uses HBM strain gauges.
Not all questions about air and space travel have been explained. Therefore Institutions worldwide have conducted many projects with the aim to research further into areas that are scientifically questioned. In 1967, Alain Juge founded the club Lyonnais d'Experimentation Spatiales (CLES-FACIL), the oldest aeronautical research association in France. A strong connection between the club and the well renowned INSA University in Lyon means that research projects are continually carried out at a high level.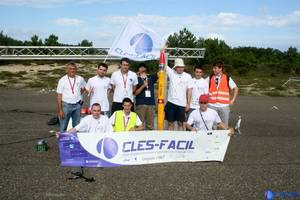 The CLES-FACIL team with the "Detrona" Rocket
Around 20-30 members of the CLES-FACIL continuously work on different research projects, for example the development of experimental rockets, stratospheric balloons and miniature rockets. Every year, CLES-FACIL also builds a research rocket ("Fusex"), with the exact goal to research and find an answer to particular scientific questions.