T40HS High-Speed Torque Transducer with Smaller Measuring Range
August 25, 2017
The high-speed torque transducer T40HS now offers smaller measuring ranges starting at 100 Nm
Due to its short design and high stiffness, T40HS offers a very high accuracy class of 0,05
Ideal for testing propulsion systems, turbines, transmission test rigs, adjustable actuators or the efficiency of complete drive trains
The lightweight torque transducer T40HS from HBM Test and Measurement (HBM) is now available with a nominal (rated) measuring range starting at only 100meganewtons (Nm) at a guaranteed accuracy class of 0.5%.
T40HS is characterized by its short construction, its high stiffness and its precision, and thus allows for a very low measurement uncertainty. The lower measuring range of T40HS is especially beneficial when testing high-speed energy recovery systems, electrical drives, propulsion systems, turbines, transmission test rigs, adjustable actuators, or the efficiency of complete drive trains.
Due to its lightweight titanium body, the new high-speed torque sensor series T40HS also has a low moment of inertia. The T40HS has been designed in accordance with the relevant European standards and also complies with US and Canadian standards. The product carries the FCC, IC, and CE labels.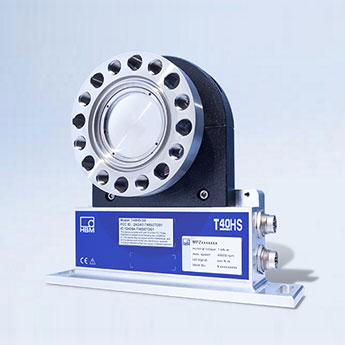 Download Press Release (Word file)