XY2 and XY4 Torsion/Shear Strain Gauges with 2 Measuring Grids for Measurements on Torsion Bars and Determining Shear Stresses
Types XY2 and XY4 are V-shaped strain gauges (SGs) with 2 measuring grids arranged at an angle of about 45° to the SG axis. Typical applications for these strain gauges include measurements on torsion bars and determining shear stresses as they occur in shear beams in the area of neutral fibers.
Further information about measuring with XY2 and XY4 is available in our brochure "Use of the Wheatstone Bridge Circuit" and in our specialist publication "An Introduction to Measurements Using Strain Gauges".
You can also take advantage of our wide selection of geometries with different nominal (rated) resistances (120, 350, 700 ohms) and temperature adaptations for torsion and shear strain gauges.
The measuring grid consists of constantan; the material of the measuring grid carrier is polyimide.
Ordering number

Nominal (rated) resistance

Dimensions [mm/inch]

Vmax

Solder terminals

Preferred types

Measuring grid

Carrier

Ω

a

b1

b2

c

d

1-XY2x-0.6/120

120

0.6
0.024

2.2
0.087
1.1
0.043
7.5
0.295
4
0.157
2.5
LS7
1

1-XY2x-1.5/120

120

1.5
0.059
1.7
0.067
2.5
0.098
6.8
0.268
4.5
0.177
4.5
LS7
1

1-XY2x-3/120

120

3
0.118
3.7
0.146
5.3
0.209
11.2
0.441
9.5
0.374
6
LS5
1

1-XY2x-6/120

120

6
0.236
8
0.315
10
0.394
17.5
0.689
12.7
0.5
11
LS4
1

1-XY2x-1.5/350

350

1.5
0.059
2.2
0.087
2.5
0.098
7.4
0.291
4.5
0.177
5
LS7
1

1-XY2x-3/350

350

3
0.118
4.2
0.165
5.3
0.209
11.2
0.441
9.5
0.374
10
LS4
1

1-XY2x-6/350

350

6
0.236
8
0.315
10
0.394
17.5
0.689
12.7
0.5
19
LS4
1

1-XY2x-3/700

700

3
0.118
4
0.157
4.7
0.185
11.2
0.441
9.5
0.374

14

LS5
-

1-XY2x-6/700

700

6
0.236
7.8
0.307
9.2
0.362
17.5
0.689
12.7
0.5

27

LS4
-
Ordering number

Nominal (rated) resistance

Dimensions [mm/inch]

Vmax

Solder terminals

Preferred types

Measuring grid

Carrier

Ω

a

b1

b2

c

d

1-XY4x-0.6/120


120

0.6
0.024

2.2
0.087
1.6
0.063
6.5
0.256
4.6
0.181
1.5
LS7
1

1-XY4x-1.5/120

120

1.5
0.059

1.8
0.071
3.1
0.122
7.5
0.295
4.6
0.181
2.5
LS7
1

1-XY4x-3/120

120

3
0.118

3
0.118
5.4
0.213
11
0.433
8
0.315
5
LS7
1

1-XY4x-6/120

120

6
0.236

6
0.236
10.2
0.402
16
0.63
12.2
0.48

9.5

LS4
1

1-XY4x-1.5/350

350

1.5
0.059

2.1
0.083
3.1
0.122
7.5
0.295
4.5
0.177
4
LS7
1

1-XY4x-3/350

350

3
0.118

4.2
0.165
5.6
0.22
11
0.433
8
0.315
9.5
LS7
1,3

1-XY4x-6/350

350

6
0.236

6
0.236
10
0.394
16
0.63
12.2
0.48
16
LS4
1

1-XY4x-3/700

700

3
0.118

4.2
0.165

5.6
0.22

11
0.433

8
0.315

13.5

LS7

1

1-XY4x-6/700

700

6
0.236

6.1
0.24

9.9
0.39

16
0.63

12.2
0.48

23

LS4

-
The following temperature matching codes (1 … 9) apply to all types
1 = Ferritic steel (10.8 ppm/K; 6.0 ppm/°F)
3 = Aluminum (23 ppm/K; 12.8 ppm/°F)
5 = Austenitic steel (16 ppm/K, 8.9 ppm/°F)
6 = Silica/composite (0,5 ppm/K; 0.3 ppm/°F)
7 = Titanium and gray cast iron (9 ppm/K; 5.0 ppm/°F)
8 = Plastic (65 ppm/K; 36.1 ppm/°F)
9 = Molybdenum (5.4 ppm/K; 3.0 ppm/°F)
Remarks on Y Series
1) Strain gages are available in various temperature matches.
Insert the code in place of the placeholder "" to get the ordering number of the strain gage you need
2) Only available in matches for aluminum, ferritic and austenitic steel
3) Maximum permissible effective supply voltage (specified for steel)
4) Preferred types (available from stock) with the temperature matches specified in the column
5) With application aid (cut-to-size polyimide adhesive strip for easy positioning)
Torsion / Shear (2 grids)
XY2
With leads and common connection
XY4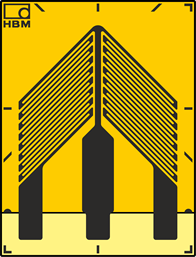 With solder pad and common connection
XY1_E
Double shear with solder pads on each end of the grid