FIT7A: 무게 측정, 분류(sorting), 패킹 머신을 위한 디지털 로드셀
당신의 중량계측기(checkweigher)를 업그레이드 하세요!
지능형 로드셀은 선별•포장시스템과 중량선별기의 핵심이라고 할 수 있습니다. 신제품 HBM FIT7A을 사용하면 동적 무게 측정 시스템의 핵심을 구동하는 디지털 로드셀 솔루션의 이점을 누릴 수 있습니다.
혁신을 창조하다, FIT7A
FIT7A는 기계에 장착되는 신형 센서 그 이상입니다. 모든 개발품에서 FIT7A를 "혁신의 원동력"으로 활용할 수 있습니다. 뛰어난 기술 특성과 가격 경쟁력으로 귀사의 중량선별·포장시스템은 가격을 낮추어 완전히 새로운 시장 세그먼트를 개척할 수 있습니다. 치열한 글로벌 경쟁 - 이제 FIT7A로 'FIT'이 가능합니다.
FIT7A 는 테스트&계측 분야의 전세계적 선두주자 HBM 에서 생산하는 제품 입니다. 수십년간의 글로벌 노하우를 바탕으로 귀사의 든든한 파트너가 되겠습니다.
HBM은 중량 계측 기술에 특화된 공급업체 입니다. 이제는 더이상 잠재적인 경쟁사로 부터 부품을 구매하지 않아도 됩니다.
제품 공급 면에서 국제적으로 신뢰할 수 있는 파트너 입니다.
전 세계 40개국 이상에 지사와 대리점을 보유하고 있어 빠르고 수월한 서비스 제공이 가능합니다.
Two versions available
1 connector - for use in combination with PLC
2 connectors - the load cell autonomously evaluates the light barriers and controls the ejector
Communication with the machine:
Fieldbus support: RS485, CANopen and DeviceNet
You will find more information in the data sheet.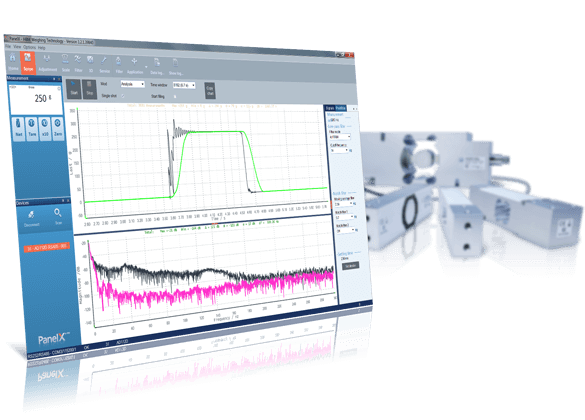 Configure, analyze, optimize filling processes using PanelX
PanelX is the cross-platform software from HBM that enables you to set up, configure and analyze your dynamic weighing technology applications.
Use PanelX to conveniently and intuitively configure and control the filling algorithm integrated with FIT5A.
PanelX analyzes parameters such as filling time and residual flow and supports you in optimizing the filling process.
Product Literature
제목 / 설명
언어
제품
언어
종류
데이터 시트
FIT7A - Data Sheet
English
FIT7A - Data Sheet (Japanese)
Japanese
FIT7A - Datenblatt
German
브로슈어
Digital weighing technology solutions - Brochure
English
Digitale Wägetechniklösungen Broschüre
German
설치/조립 방법
FIT7A - Operating manual
English, German, French
사용 메뉴얼
CC-LINK Gateway - Operating Manual
German, English
액세서리
Cables and Connectors - Data Sheet
English
Kabel mit Stecker - Datenblatt
German
인증서
FIT7 - OIML Certificate of conformity
다국어
FIT7 - Test certificate
다국어
EU Declaration of Conformity
FIT7A - EU Declaration of Conformity
다국어
Explosion Protection: EU Declaration of Conformity
FIT7A - EU Declaration of Conformity


Ex IID for zone 22 (non conductive dust)

다국어
기타
Commissioning CANOpen - Application Note 012e
English
소프트웨어
EDS File FIT5A/FIT7A for CANopen
Date: 07/2016
Size: 7 KB
다국어
EDS File FIT5A/FIT7A for DeviceNet
Date: 07/2016
Size: 11 KB
다국어
PanelX


Panel software for:

PAD Digital Transducer Electronics
FIT load cells (FIT/4, FIT/5, FIT5A, FIT7A)
Digital load cells (PW15iA, PW15AHi, PW20i, C16i, C16i3)
AD/AED electronics (AD103C, AD104C, AD105C)


Date: 05/2016
Version: 1.2.6
Size: 31 MB
다국어
PanelX WebHelp


WebHelp for PanelX in English and German language.


Date: 08/2015
Version: 1.2.2
Size: 23 MB
다국어