FIT7A Digital Load Cell: The Heart of Checkweighers
The future of checkweighing starts with the FIT7A digital load cell. With FIT7A, for the first time you can build your own checkweigher for your packaging line. There is no need for you to purchase expensive components and you become more competitive and independent.
Why opt for the checkweigher load cell from HBM? We are a pure supplier of weighing technology components. Therefore you do not purchase your components from your potential competitors. We are a dependable global partner offering high delivery reliability. Always near you: With a strong sales and service team that looks forward to providing personal support, answering your questions and offering professional training.
Confirmed precision: OIML certificate for C4, Y up to 20,000
Maximum capacity: 3 kg ... 75 kg
Extremely stiff design allows for higher throughput of your checkweigher, due to fast signal response and short filter times
Steel is optimal for the food industry and resistant to strong detergents
Integrated electronics close to the sensor allows for maximum precision. Active temperature compensation guarantees precise results even in the event of temperature variations.
Developed for Checkweighers
1000% overload stability: Should it happen - the load cell even withstands cleaning crews stepping on it when working in a hurry
Excellent off-center load behavior: Suited for various conveyor sizes up to 600 mm length
IP66 up to the connector: Developed for wash-down applications involving the checkweigher being completely covered in foam
Connector instead of cable: Fast replacement in case of an emergency
Robust
Intelligent
FIT7A allows for stand-alone evaluation of light barriers and control of ejectors: No additional PLC is required
Tried and tested filter eliminates conveyor drive, roller and conveyor interference
Operation via free PanelX software: Saves valuable development time and supports you in optimizing your checkweigher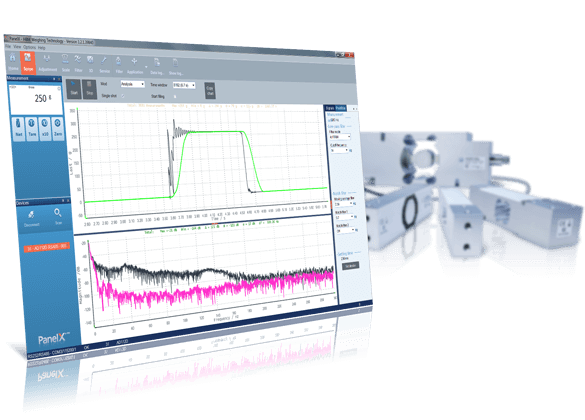 Configure, analyze, optimize filling processes using PanelX
PanelX is the cross-platform software from HBM that enables you to set up, configure and analyze your dynamic weighing technology applications.
Use PanelX to conveniently and intuitively configure and control the filling algorithm integrated with FIT5A.
PanelX analyzes parameters such as filling time and residual flow and supports you in optimizing the filling process.
Documents and downloads
Naam / Omschrijving
Taal
Producten
Taal
Document soort
Data sheet
FIT7A - Data Sheet
English
FIT7A - Data Sheet (Japanese)
Japanese
FIT7A - Datenblatt
German
Brochures
Digital weighing technology solutions - Brochure
English
Digitale Wägetechniklösungen Broschüre
German
Montage instructies
FIT7A - Operating manual
English, German, French
Bedieningshandleiding
CC-LINK Gateway - Operating Manual
German, English
Accessoires
Cables and Connectors - Data Sheet
English
Kabel mit Stecker - Datenblatt
German
Certificaten
FIT7 - OIML Certificate of conformity
Meerdere talen
FIT7 - Test certificate
Meerdere talen
EU Declaration of Conformity
FIT7A - EU-Conformiteitsverklaring
Meerdere talen
Explosion Protection: EU Declaration of Conformity
FIT7A - EU-Conformiteitsverklaring


Ex IID for zone 22 (non conductive dust)

Meerdere talen
Overig
Commissioning CANOpen - Application Note 012e
English
Software
EDS File FIT5A/FIT7A for CANopen
Date: 07/2016
Size: 7 KB
Meerdere talen
EDS File FIT5A/FIT7A for DeviceNet
Date: 07/2016
Size: 11 KB
Meerdere talen
PanelX


Panel software for:

PAD Digital Transducer Electronics
FIT load cells (FIT/4, FIT/5, FIT5A, FIT7A)
Digital load cells (PW15iA, PW15AHi, PW20i, C16i, C16i3)
AD/AED electronics (AD103C, AD104C, AD105C)


Date: 05/2016
Version: 1.2.6
Size: 31 MB
Meerdere talen
PanelX WebHelp


WebHelp for PanelX in English and German language.


Date: 08/2015
Version: 1.2.2
Size: 23 MB
Meerdere talen
Two versions available
1 connector - for use in combination with PLC
2 connectors - the load cell autonomously evaluates the light barriers and controls the ejector
Communication with the machine:
Fieldbus support: RS485, CANopen and DeviceNet
You will find more information in the data sheet.