Would you like to safely carry out measurements in environments with electrical and magnetic interference and achieve precise results?
Undisturbed measurements, from a safe distance, are only possible by means of galvanic isolation. In addition, ground loops are prevented thus increasing measurement accuracy. Measurement and transmission systems with fiber-optic isolation offer a convenient means of countering the problem of long signal lines in difficult electromagnetic environments.
The ISOBE5600 product range from HBM comprises a transmission system as well as a measurement system with integrated fiber-optic isolation. Both systems fully satisfy demands for safety, a large bandwidth and measurement accuracy.
ISOBE5600 Isolation System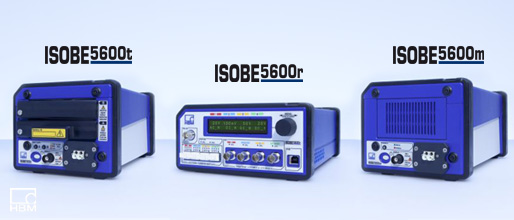 Transmission system with integrated fiber-optic isolation
The ISOBE5600 isolation system provides an additional isolation for existing measurement systems.
The system comprises a transmitter unit connected by optical fiber to the ISOBE5600r receiver unit. Either the battery-powered ISOBE5600t (high voltage) or the line-fed (mains-fed) ISOBE5600tm (medium voltage) with isolated power supply (1.8 kV isolation) can be used as transmitter. The rechargeable battery of the ISOBE5600t transmitter unit is easily replaceable, and provides energy for twelve hours of continuous operation. A second rechargeable battery (optional) doubles the operating time to 24 hours.
High precision
The transmitter, positioned in close proximity to the test object, performs the signal A/D conversion, and the digital transmission of measurement data via optical fiber. Compared to analog transmission, digital signal transmission provides a significant increase in measurement accuracy; the ISOBE5600 isolation system eliminates signal drift and transmission line noise. The D/A converter in the receiver unit performs the re-conversion of data into analog signals, thereby enabling further processing with conventional measurement technology.
Large bandwidth
The ISOBE5600 isolation system offers nine measurement ranges from ± 100 mV to ± 50 V. The bandwidth of 20 MHz not only covers applications with DC signals or power line (mains) frequencies, but also applications involving high clock-rate switching power supply and motor controls.
Installation
Up to four transmitters can be connected via optical fiber to a receiver. Equipped with display and multi-functional dial, the receiver has all the necessary controls to enable the direct and remote set up of installed transmitters for measurement, from a safe distance. The ISOBE5600 isolation system is compatible with data acquisition instruments from HBM as well as other manufacturers.
Your benefits
Stability
Accuracy
No exchange of existing data acquisition device is necessary
Battery (rechargeable) or line-powered (mains-powered) transmitter
Secure digital data transmission via optical fiber
Minimizes measurement problems, like ground loops, long signal lines, random signals
Higher bandwidth than a normal isolation amplifier.