Testing of Aircraft Structures
Before the aircraft takes off for the first time, the expected loads of different operating situations are tested in the stand. The aim is to know exactly how the aircraft structure will behave in different situations. Any design flaws must be discovered during these tests to ensure maximum safety in operation.
Aircraft fatigue testing encompasses several specific applications:
Material testing: Fatigue testing of material coupons
Component testing: Durability tests of isolated aircraft components like wings, doors etc. with up to hundreds of measurement channels
Full-scale testing: Fatigue tests of the whole aircraft structure and ultimate load test, usually with thousands of measurement channels, mostly strain gauges
Full-scale Fatigue Testing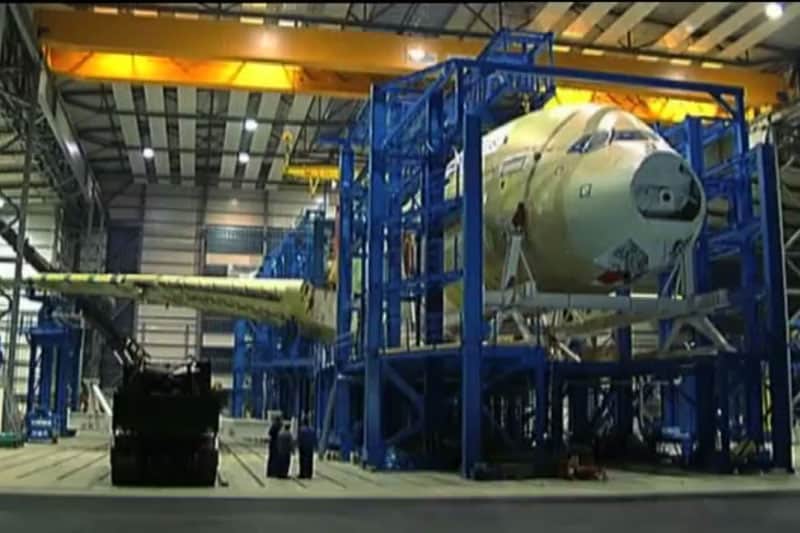 Full-scale fatigue tests simulate various operating situations typical for the whole aircraft structure, e.g. landings, take-offs, pressurizing and depressurizing the cabin. For these time-compressed tests, a set of flight types – rough, smooth, emergency landing etc. – is defined and the expected loads are applied. Typically, the tests last a few years to simulate several times the lifetime of the aircraft.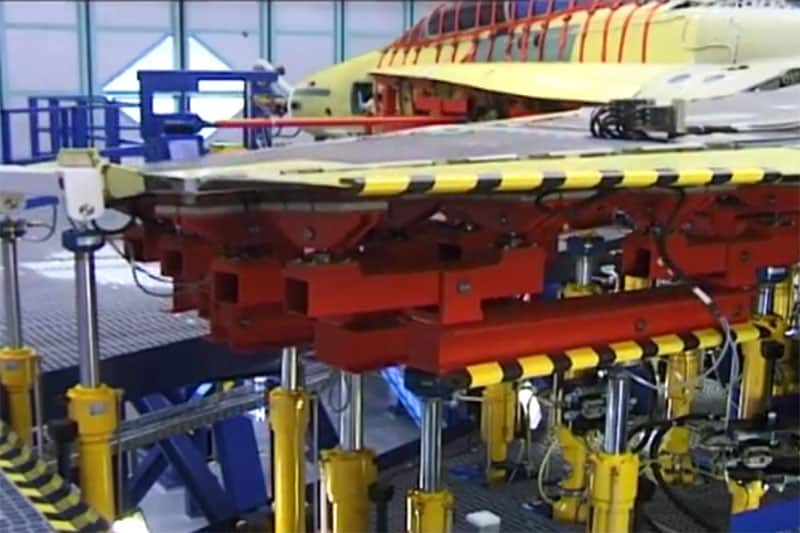 Ultimate load tests apply the limit load of the wing times a safety factor: For example, 1.5 times the maximum load that the wing is expected to see once during its whole lifetime. During this static test, the load is increased in several small steps, first up to the limit load and then up to the ultimate load. Even at that point, all components of the wing including ailerons and flaps must work correctly. In some cases, the load is increased beyond the ultimate load until the wing fractures to make sure that it is not too heavily built.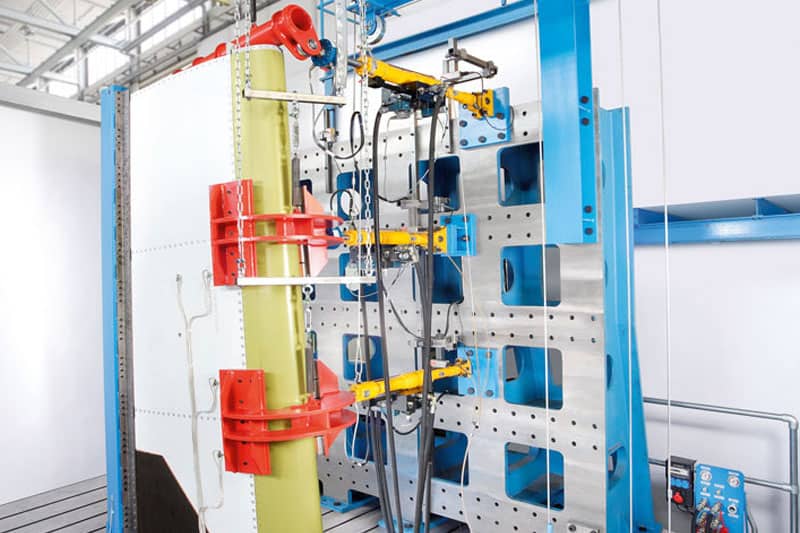 In component tests, the expected loads of multiple times the lifetime of the aircraft are applied to isolated components. This includes doors, wings, empennage etc. Component tests typically replicate loads of real flights. This ensures that all components by themselves can withstand the expected lifetime loads before they are assembled for the full-scale fatigue test.
Image courtesy of IABG

In aviation, weight is expensive. That is why manufacturers continuously improve the materials used for new aircraft. The trend goes towards composite materials, additive manufacturing, lighter alloys, and ceramics. In material testing, the load is applied to single material coupons to test the resilience of these materials. The coupons need to withstand cyclic loads, tension, compression, bending, and torsion.
If interested in our material testing services, please visit our HBM Prenscia website by clicking here.

Benefits of the HBM Solution
Centralized or distributed data acquisition systems for very few up to thousands of measurement channels
Patented 3-wire or 4-wire strain gauge circuit eliminating wire resistances
DC for high-speed or carrier frequency for maximum noise suppression
Easy link to the control system via analog output, dynamic link library (DLL) or EtherCAT®*
Intuitive software packages for low and high channel counts
Global distribution of measurement data through server-client-architecture
Application-specific visualizations and calculations, e.g. prediction lines
Integration of sophisticated customized real-time computations
Acquisition of digital data from standard Avionics busses (ARINC 429, MIL-STD-1553)
Proven solutions in use for decades
100,000s of measurement channels in the field
One-stop solution from the sensor trough the amplifier to the software – turnkey ready
Seamless integration of fiber-optical sensors and interrogators
Dedicated engineering team for setup and support (remote and local)

In-house expertise and state-of-the-art materials testing services
*EtherCAT® is registered trademark and patented technology, licensed by Beckhoff Automation GmbH, Germany