Measurement Solutions for Industrial Process Applications
Are you looking for effective and cost-efficient ways to monitor your manufacturing processes within the scope of production measurement technology? Then look no further! We offer just what you need for efficient production control and process automation.
Whatever your industry or application – be it the manufacture of pharmaceutical products, automotive components, or the processing of raw materials such as sheet metal or paper – HBM provides you with hardware and software packages that exactly meet your requirements: from sensor to amplifier to specialized software. Our sales teams provide support to customers worldwide. We use standard products to quickly solve the challenges you face but can also easily develop a custom solution for special requirements.
Industrial Measurement Technology
Measurement technology is used in different setups and applications in production environments, for example in:
Industrial process control, ensuring the quality of specific production and joining processes
End-of-line tests in production lines in which the functioning of products or components is checked at random
Parts of machinery such as presses, to avoid overload and optimize process control
Irrespective of the actual application in production, it is essential that the measuring equipment is fit-to-function, i.e., adapted to the application and ready for use, even in harsh industrial environments. At the same time, the control and visualization screen must reflect actual working conditions in the production environment, e.g., through different user levels and maximum usability. HBM's measurement chains for industrial measurement technology and control always provide the right solution. Our sensors guarantee reliability and ruggedness during use. Amplifier systems such as PMX are the ideal choice for measurement data acquisition, also in automated production lines.
Process Measurement with HBM: Your Benefits
Full evaluation of the quality of your assembly connections
Consistent documentation of your manufacturing data
Protection of machines and tools
Real-time production monitoring
Predictive maintenance
Complete Measurement Chains from a Single Supplier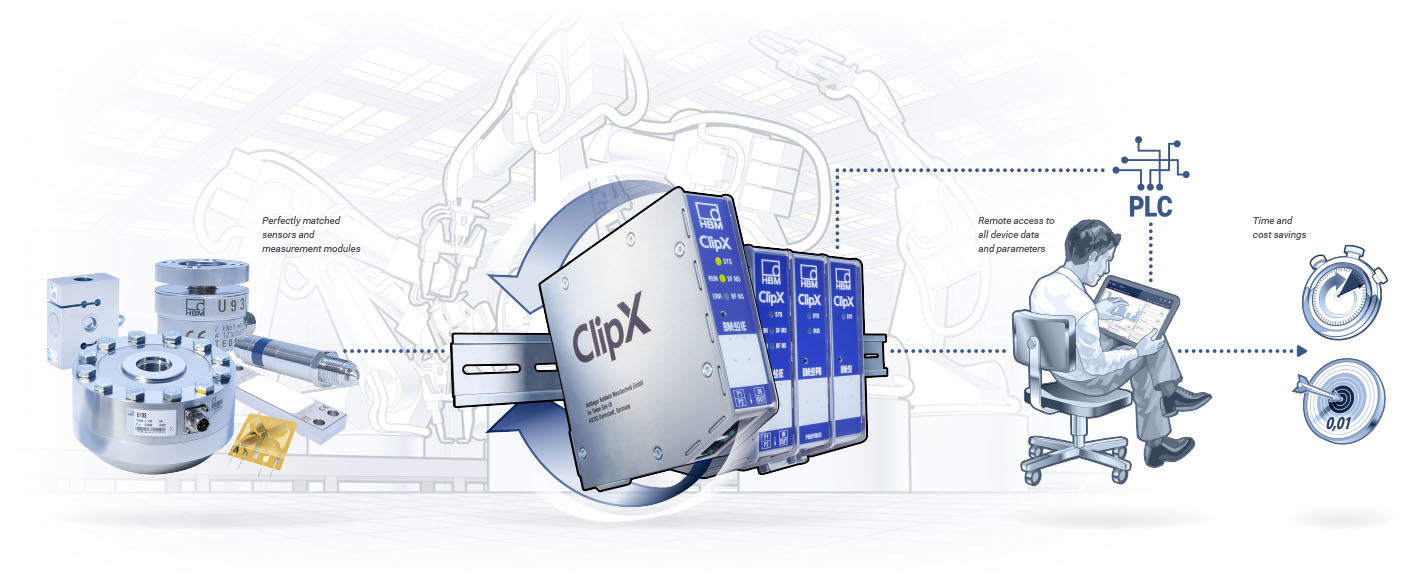 HBM develops and produces perfectly matched measurement chains consisting of transducers (for example for force, torque, pressure, or displacement), industrial amplifiers and instruments, and specialized software solutions.
Our analog and digital measurement chains provide precise and dependable measurement results without system discontinuities and can easily be integrated into overall control systems with their flexible automation interfaces. Certifications in compliance with ISO9001, ISO14001, and the accredited HBM calibration laboratory (DAkkS) ensure that the quality of the measurement chains is traceable in compliance with ISO 17025.
Measurement Applications for Manufacturing