Anything else with that? Throughput checkweigher with uncovered weighing technology
A four-lane throughput checkweigher jointly developed by weighing technology and sorting specialist LIEBEL and VC999 - experts in packaging solution systems - was presented for the first time at IFFA 2013. Unusually, the weighing and measurement technology installed is not covered in any way, in contrast to comparable scales. This innovative design was made possible by HBM's EHEDG-certified PW27 load cell. The integrated overload protection of the PW27 – which does not get dirty even with exposed installation – combined with the hygienic and aseptic aspects of the load cell are invaluable features. The system sets new standards in terms of safety, efficiency and reliability.
LIEBEL has been using weighing technology from HBM in its multi-lane scales for six years – especially in scales for large bakeries and producers of frozen pasta goods. This collective positive experience combined with the properties of the PW27 load cell has led the scale manufacturer to equip a multi-lane scale - developed jointly with VC999 - with HBM's hygienic load cell. The PW27 shows its strengths here, including hygiene, resistance to intensive cleaning and mechanical stress.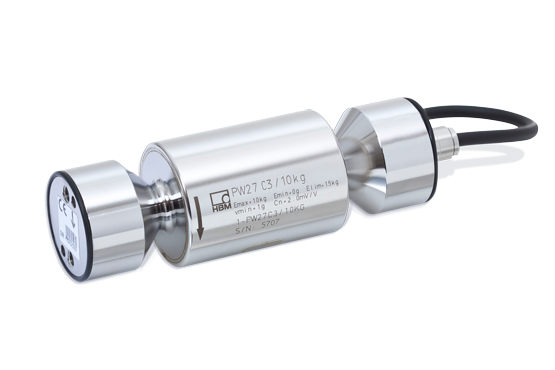 Aseptic packaging, accurate to the gram
The new four-lane scale is positioned directly downstream from the slicer in the VC999 packaging system for cheese, ham and sausages. After slicing, the checkweigher returns information about the portion weight in all four lanes. If necessary, the slice thickness and with it the package weight can quickly and automatically be adjusted in this manner.
One especially noteworthy features of the new multi-lane scale is its design. The scale and measurement technology is exposed rather than being built into the protective housing. That makes it easy to access. This is made possible by the special design of the PW27 from HBM. The load cell has no edges or gaps and is made of food-compatible stainless steel, which makes it easy to clean. Even the antibacterial cable laced with silver reduces the risk of contamination. The PW27 is the only EHEDG-certified load cell in the small weight class worldwide to date.
The advantages for the user are clear. The new packaging system reduces the work required for cleaning, resulting in lower costs. At the same time it offers valuable protection from contamination of portions during the cutting and packaging processes, thereby eliminating cost-intensive recalls that damage the company's image. These are valuable advantages that will convince many users to buy the new packaging system.
Very sensitive yet robust technology
Checkweighers integrated into slicer lines are sensitive measuring instruments which are the most likely components in a system to fail. In practical applications they often lead to production downtimes. The new slicer line from VC999 with the new four-lane checkweigher is now setting new standards for reliability thanks to the robust weighing technology from HBM. The PW27 has integrated overload protection that has more than proven itself in extensive tests conducted by LIEBEL and VC999.