Large Strain Measurement Ranges at Increased Long-Term Stability – The New Optical Fiber Sensor Line newLight by HBM
HBM announces the launch of newLight, the easy to install optical sensor line for strain, tilt, temperature and acceleration. Based on Fiber Bragg Grating (FBG) technology, the development of this product line reflects advances in optical measurement standards.
New optical sensors for high strain measurements with outstanding fatigue resistance
Easy deployment of sensing networks due to pre-assembled sensor chains compatible with standard telecom fibers
Completely passive sensors for applications in the most demanding environments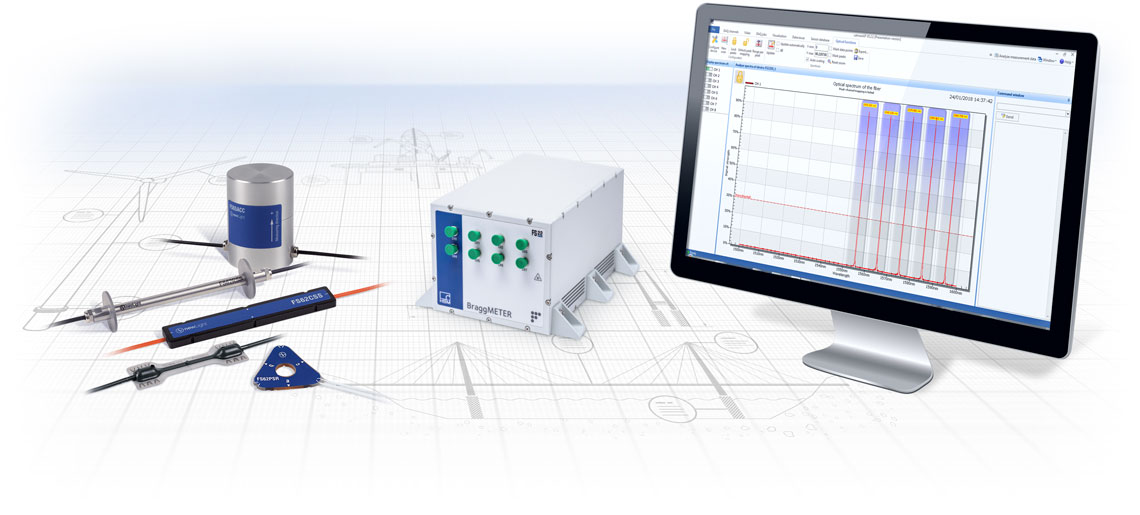 newLight: Easy to configure – Versatile applications
The newly developed optical sensor line newLight enables large strain measurement ranges at increased long-term stability. It is the ideal choice for structural health monitoring due to its fast and easy installation and its resistance to environmental conditions such as humidity, rust, and salt even over extremely long distances. The compatibility with standard telecom cables makes this line very cost efficient – especially for medium-to-high channel applications.
The newLight range is based on Fiber Bragg Grating technology and offers optical sensors for measurements of strain, temperature, accelerometer, and tilt. In addition to fiber optical sensors that measure strain, temperature, acceleration, tilt or displacement, HBM also offers optical interrogators, software, as well as service and support for every application.
Benefits of optical sensors
Fiber Bragg Grating based sensors offer many advantages compared to electrical sensors. They are, for example, immune to all electromagnetic effects and offer long-term stability with no zero-point drift because of the wavelength-based measurement. In addition, these sensors are very well suited for glass and carbon fiber composite materials which are often used for highly stressed structures, e.g. in airplanes and wind power turbines.
For additional information, please contact:
Heather Wilkins
Marketing Coordinator
Bruel & Kjaer
Telephone: 01223 389 800
Web: www.bksv.com
Email: heather.wilkins@bksv.com