Step 1: Determining the sensor's sensitivity after mounting
Connect the sensor to the charge amplifier. Make sure that the entire measuring chain has the same temperature as its environment. It is essential to make the calibration only after the charge amplifier has operated for two hours to preventrunning-in processes.
Position the reference force transducer such that the entire force flows through it (preventing force shunts).
An example of force washer calibration. The strain gauge-based force transducer is in line with the pre-stressed CFW. An MGCplus amplifies the signal provided by the S9M that is used as force sensor. When extremely high demands on precision are made, we recommend using reference transducers. The CFW force washer has been pre-stressed and the load is applied to it at the same time as to the S9M force transducer. However, this is only an example. In practice, there are many calibration methods, for example, using weights or generating the force with the machine that is to be monitored with the CFW (presses, welding machines, etc.).
It is also important to choose the correct measuring range. For this purpose, multiply the force you want to use for calibrating the measuring chain by 4 pC/N. This is a customary sensitivity value for piezoelectric sensors installed in the force shunt. Add about 20 % to the result and enter this charge value in CMD Assistant as the physical measuring range. In our example above, calibration is made at approximately 500 N; with 4 pC/N sensitivity we expect a signal of approximately 2000 pC (4pC/N * 500 N = 2000 pC). We set the measuring range to 2500 pC.
The force used for calibration should not be less than 30 % of the maximum force that is to be measured with the CFW to ensure adequate accuracy. It is essential to prevent overloading of the sensors. Reset the piezoelectric measuring chain and tare the reference measuring chain immediately before starting the reference measurement.
Apply a load to the measuring device and measure the force using the reference measuring chain. The charge will be simultaneously displayed on the PC screen running CMD Assistant.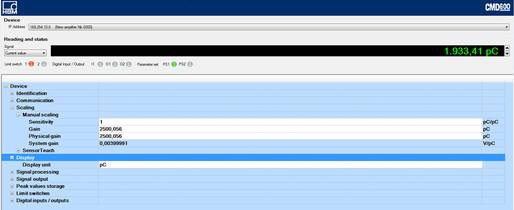 The sensor's sensitivity is now calculated as follows:

You can of course also make similar calibrations for measured quantities other than force (mass, torque, etc.)
In our example, we get the following result:

Using a series CMA amplifier we recommend calibrating the entire measuring chain. For this purpose, directly measure the charge amplifier's output voltage. The resulting measuring chain sensitivity is: