Reliable test results, reduced testing times and lower cost - place your trust in HBM test and measurement technology for your high voltage impulse test. We offer you an innovative test and measurement solution using fiber optic isolated digitizers.
Our measurement system complies with international IEC standards and consists of perfectly matched components:
Transient recorder
High voltage impulse attenuator
Analysis software.
This high voltage impulse testing solution supports you in measuring specific wave shapes. Furthermore, the latest analysis methods are being used.
Fast measurement and easy analysis of the test results are guaranteed. Benefit from reduced testing times and lower cost!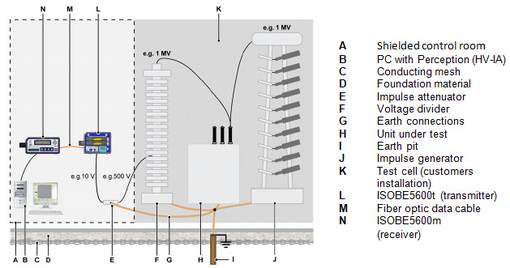 Test bench setup for high voltage impulse testing consisting of receiver, transmitter, high voltage impulse attenuator and fiber optic isolated digitizers.
This test bench setup offers clear benefits:
NO electrical connection between test cell signals and equipment powered in the control room (measurement system and PC)
NO equalizing currents between test cell earth connection and mains earth connection
Impulse attenuator and battery operated digitizer placed in the shielded control room, i.e. minimum exposure to electromagnetic disturbance.