A Sensor in 3D: Simultaneously Measuring Force and Torque Along Different Axes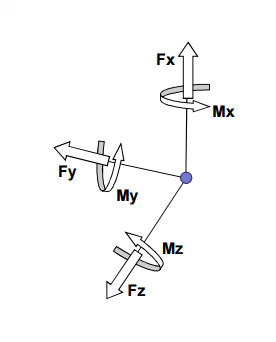 MCS10 multi-axis sensors from HBM enable multiple forces to be simultaneously measured along three axes or coordinates (Fx, Fy, Fz).
The 6-axis-sensor version allows for measurement of torque acting along the axes in addition to force (Mx, My, Mz).
MCS10 therefore provides a real "three-dimensional" image of your test setup – a 3D force sensor, which, in addition, achieves outstanding values for the crosstalk effects that can occur with multi-axis sensors.
Quality in series
Unlike customized solutions for multi-axis sensors, MCS10 is a standard product providing all the advantages of series production – such as definitive delivery times, technical parameters assured by thorough testing, and economies of scale.
Available for measuring ranges up to 100kN/2kNm.
Your Advantages at a Glance

Minimized crosstalk
MCS10 minimizes the crosstalk effects usually occurring with multi-axis sensors right from the start. Additional calculations enable you to further increase your sensor's performance. Your advantage: Dependable test results right from the start.

Full transparency
Precision and accuracy are included with your HBM product. Plus full transparency with respect to the specifications of our MCS10 sensor: Take a look at the data sheet.

Individual configuration
Do you want to measure 1 to 6 components? We offer a wealth of configuration possibilities for your MCS10 sensor to enable you to perfectly tailor it to your application. Custom-designed solutions are also available.

Immediately ready for use thanks to TEDS
MCS10 supports TEDS, the Transducer Electronic Data Sheet. This means: The sensor is automatically identified by the measurement electronics (PMX, QuantumX, digiCLIP) and is immediately ready for use.
Minimized Crosstalk
Crosstalk is an unwanted and inherent phenomenon occuring when one axis of a sensor is stressed with a single load, and some other axes are not.
HBM provides a compensation matrix for mathematical calculations for every sensor, in order to minimize inherent crosstalk effects that could distort the test result. The PMX and QuantumX amplifiers allow for virtually automatic compensation calculations. This may reduce the crosstalk by a factor of 3 to 5.

Typical applications
Monitoring of aircraft assembly processes
Force testing in tunnel boring machines
Testing of tires and balancing machines
Measurements in wave channels
Test stand measurements, e.g. of friction and axial force
Structural testing in offshore applications and solar systems
Robotics.