SomatXR Data Acquisition System: Ultra-Rugged and Extremely Flexible
The rugged SomatXR data acquisition system facilitates use in harsh environments. Besides being extremely reliable, precise, and protected from humidity, dust, shock, and vibration. The modular system is well-suited to be used in a variety of applications such as vehicle testing, stationary measurements, and structural health monitoring. The modules can be operated in a wide temperature range and can be flexibly combined via the Ethernet interface to match a wide range of applications.

Extremely rugged
Temperature range: -40 to +80 °C (dew-point proof)
IP65/IP67 degree of protection (dust and water)
Vibration-proof up to minimum 10 g
Shock-proof up to 75 g
High signal quality due to carrier-frequency technology
Reduced signal interference due to the amplifier positioning close to the measuring points


Easy to use
No additional software needs to be installed
Easy parameterization and visualization of measured data
Ethernet interface for decentralized networks
catman PostProcess software allows for efficient data analysis


Modular
A modular system, including data recorder, universal and bridge amplifier, etc.
Scalable to up to 10,000 channels
Many different transducers and interfaces can be integrated using a universal input
Can be combined with QuantumX
Recording Options
CX22B-R data recorder enables fast data acquisition using catman measurement software. Learn more

Using a local PC as Data Recorder
The SomatXR measurement modules can also be used stand-alone without a data recorder.
CX23-R data recorder allows for remote access to all measured data via a web interface. Learn more
SomatXR Supports a Wide Range of Topologies
The modular architecture of the SomatXR system allows you to implement your own measurement system – with a data recorder and web interface, a data recorder and catman or even a connected PC and catman. In addition, SomatXR modules can be integrated in the universal QuantumX amplifier system for test stand applications.
Typical Applications

Vehicle Testing
Mobile acquisition of load on mechanical components on bad road surfaces or track (Road Load Data Acquisition = RLDA)
Testing of vehicle dynamics (ride and handling), functional and brake testing
Overall vehicle or track monitoring (e.g. railroad tracks)

Railroad Testing
Distributed measurements on passenger and freight trains with multiple railroad cars
Mobile data acquisition in rail transport such as test and acceptance runs
Monitoring of complete trains or track sections

Lab/Bench Testing
Test benches for the drivetrain/powertrain
Pressure, temperature, and torque measurement
Improving efficiency and protecting energy resources
Up to five sensors per module to enable various pressure measurements (of gases and liquids) to be taken in parallel.
For pressure measurements in engine or transmission test rigs
Individually configurable: The pressure range per channel can be selected among nine ranges.
---
Ideal with frequently changing measurement tasks
Identifies all measured quantities and sensor types
Highly future proof
8 universal channels with automatic sensor identification
---
Ideal for experimental stress analysis, structural and load testing
For use with strain gauges and SG-based sensors (half and full bridge)
16 channels with automatic sensor identification
---
Supports all electrical and active sensors
For sensors with current and voltage output incl. IEPE (e.g. acceleration sensors)
16 channels with automatic sensor identification
---
The specialists for temperature measurement
Individual devices for type K and type T thermocouples
16 channels with automatic sensor identification (RFID)
---
Amplifier for highly dynamic measurements
Supports virtually all common sensor technologies
4 channels with automatic sensor identification
---
Precise rotational speed and torque measurement in mobile vehicle tests
Sample rates of up to 100 kS/channel
Signal bandwidth of up to 40 kHz
---
CAN interfaces for acquiring vehicle data
Inputs for CANbus, including support of CCP or xCP-on-CAN
4 channels that can be configured with a dbc file
All modules can be individually combined with each other.
The ultra-ruggedized data recorder enables fast measurement results in the field, reliable data recording and convenient analysis.
Measured data is acquired with pre-installed catman measurement software and stored in .bin format.
Module connection through FireWire or Ethernet
Can be used as data recorder and a gateway
Integrated uninterruptible power supply (UPS) for fail-safe operation in the vehicle
---
The ultra-rugged data recorder for reliable, unattended data logging
Web interface allows for full real-time access to measured data from anywhere
Integrated CAN interfaces enable acquisition of vehicle data
Can be individually combined with various measurement modules of the SomatXR family
---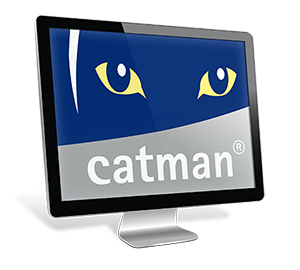 Using a local PC or Laptop as Data Recorder
The measurement modules can be used stand-alone without a data recorder
Simply connection by Ethernet from the PC/laptop to one or multiple measurement modules
Direct operation using catman measurement software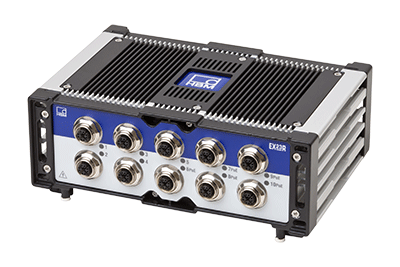 This Ethernet switch enables SomatXR and QuantumX modules to be connected to and synchronized with a PC or data recorder.
10 Gigabit Ethernet ports (M12 x coded)
5 of these ports with Power-over-Ethernet (PoE)
Precision Time Protocol version 2 (PTPv2)
---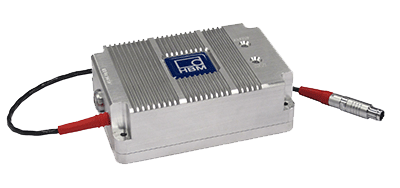 In mobile data acquisition, measurement modules are often supplied by the vehicle battery. The UPS can be used to prevent abnormal termination of a measurement, as the result of a voltage drop or power outage.
Protects from voltage drops, short-term power outages, and overvoltage
Provides buffer for up to 80 seconds
Enables fast re-charging in approximately 50 seconds
---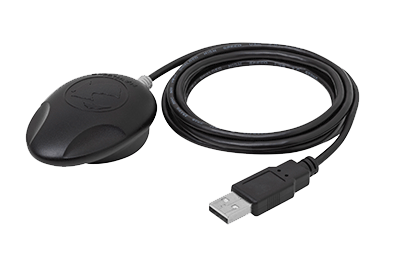 GPS Receiver for SomatXR Data Recorders
HBM provides various GPS receivers for geolocation and other GPS data:
GPS-USB-18HZ: GPS receiver with a USB connection for the CX22B-R with 18 Hz update rate
EGPS-5HZ: GPS receiver with a serial connection for the CX23-R with 5 Hz update rate
EGPS-200-B / EGPS-200-P: GPS receiver with a serial connection for the CX23-R with 200 Hz update rate and optional Plus package with an IMU (inertial measurement unit) and RKT (real-time kinematics).
---

SomatXR SCM-R-SG120/350/1000: Quarter Bridge Adapter
Besides the direct inputs for electrical strain gauges in a full-bridge or a half-bridge circuit, HBM also provides an adapter for the SomatXR universal amplifiers that allows for the measurement of single strain gauges via an external quarter bridge arm in 3-wire configuration.
Completion of strain gauges to a full bridge
Easy installation and parameterization
---

SomatXR SCM-R-TCE/K: Thermocouple Adapter
HBM provides an adapter with a cold junction for the SomatXR MX840B-R that allows for the measurement of type K or type E thermocouples.
Locking mechanism prevents accidental separation
Easy installation and parameterization
---
Further Accessories
Mechanical connecting elements (CASELINK) and mounting brackets (CASEMOUNT)
BNC adapter (KAB430)
Sensor and system connection (cables and connectors)
Protective caps for unused ports