DSE-HIE: Future-Proof, EHEDG-Compliant Weighing Electronics
The innovative Digital Sensor Electronics (DSE) is ideal for use in highly dynamic and automated weighing applications. The signals provided by analog load cells are digitized and can be output in line with all common industrial Ethernet protocols (PROFINET RT/IRT and EtherCAT) via the integrated multi-protocol unit. The Ethernet interface and simple installation close to the sensor allow for time-efficient integration. The standardized CiA 461 command set further reduces the time required to get the system up and running. An intuitive web interface facilitates both the parameterization and the acquisition of measured values, making any additional software unnecessary.
The DSE is housed in a compact stainless-steel enclosure. Its hygienic EHEDG-compliant design allows its use in applications requiring the most stringent hygiene and cleanliness standards, such as in the food and beverages, pharmaceutical, or chemical process industries. Owing to its IP67/68/69K degree of protection, the device is optimally protected and can be cleaned with high-pressure cleaners or employing CIP (clean-in-place) systems.
Hygienic
EHEDG compliant
Certified by ECOLAB
IP67, IP68, IP69K degree of protection (only with a connected plug)


For use in areas with rigorous hygiene requirements, especially in cold-aseptic applications
Communicative
Support of PROFINET and EtherCAT
Parameterization and acquisition of measured values via an integrated web interface using TCP/IP
Optimized for daisy-chain wiring


Time saving Plug & Work solution for modern industry environments
Precise
10,000e for maximum accuracy
2,000 measured values per second
Integrated filters for precise weighing applications


Maximum output for retrofitting and new systems
Think Hygiene, Think HBM – The Ideal Measurement Chain for Your Application
The DSE weighing electronics means PROFINET for every strain gauge-based load cell. It also enables HBM to comply with rigorous hygiene requirements: Besides matching electronics, the portfolio also offers easy-to-clean and EHEDG-compliant load cells. The modular system comprises matching accessories that facilitate straightforward solutions while ensuring maximum cleanliness.
DSE Product images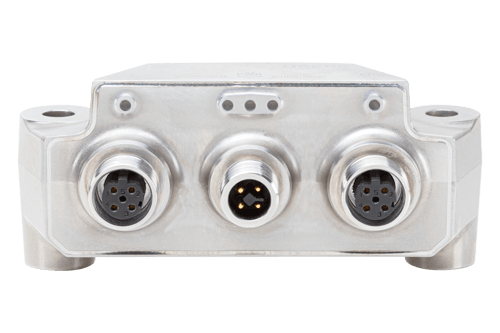 Download the CAD step files for this product
DSE CAD step files