DSE-HIE: Future-Proof, EHEDG-Compliant Sensor Electronics
The innovative Digital Sensor Electronics (DSE) is ideal for use in highly dynamic and automated weighing and industrial automation applications. The signals provided from analog strain gauge-based sensors such as load cells and force transducers are digitized and can be output in line with all common industrial Ethernet protocols (PROFINET RT/IRT and EtherCAT) via the integrated multi-protocol unit. The Ethernet interface and simple installation close to the sensor allow for time-efficient integration. The standardized CiA 461 command set further reduces the time required to get the system up and running. An intuitive web interface facilitates both the parameterization and the acquisition of measured values, making any additional software unnecessary.
The DSE is housed in a compact stainless-steel enclosure. Its hygienic EHEDG-compliant design allows its use in applications requiring the most stringent hygiene and cleanliness standards, such as in the food and beverages, pharmaceutical-, in industrial process- and factory automation. Owing to its IP67/68/69K degree of protection, the device is optimally protected and can be cleaned with high-pressure cleaners or employing CIP (clean-in-place) systems.
Hygienic
IP67, IP68, IP69K degree of protection (only with a connected plug)
EHEDG compliant
Certified by ECOLAB


For use in areas with rigorous hygiene requirements and in harsh industrial environments, especially in cold-aseptic applications
Communicative
Support of PROFINET, EtherCAT in Preparation
Parameterization and acquisition of measured values via integrated, intuitive web server using TCP/IP
Optimized for daisy-chain wiring due to internal switch


Time saving Plug & Work solution for modern industry environments
Precise
10,000e for maximum accuracy, 0.01%
2,000 measured values per second
Integrated filters for precise weighing and automation applications


Maximum output for retrofitting and new systems

New: Integrated Algorithms for Filling, Sorting, Checkweighing and Container Weighing
Optimize your processes: The new process algorithms can be easily parameterized via the integrated WebServer. The algorithms work in real time, relieve the machine control and ensure optimal results.
Think Hygiene and robust, Think HBM – The Ideal Measurement Chain for Your Application
The DSE weighing electronics means PROFINET for every strain gauge-based sensor. It also enables HBM to comply with rigorous hygiene requirements: Besides matching electronics, the portfolio also offers easy-to-clean and EHEDG-compliant load cells. The modular system comprises matching accessories that facilitate straightforward solutions while ensuring maximum cleanliness.
DSE Product images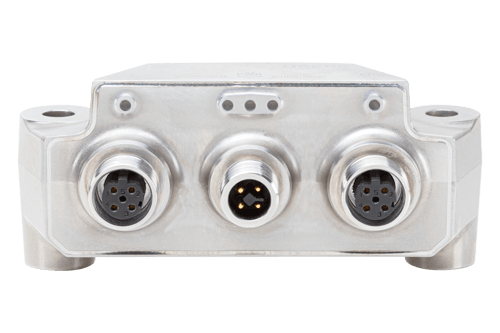 Download the CAD step files for this product
DSE CAD step files
Title / Description
Language
Products
Language
Content Types
Data Sheets
DSE-HIE - Caractéristiques techniques
French
DSE-HIE - Data Sheet
English
DSE-HIE - Datenblatt
German
DSE-HIE - Folha de dados
Portuguese
DSE-HIE - Hoja de características
Spanish
DSE-HIE - Prospetto dati
Italian
DSE-HIE - 데이터 시트
Korean
DSE-HIE - データシート
Japanese
DSE-HIE - 數據表
Chinese
Brochures
HBM weighing technology for industry - Brochure
English
Industrielle Wägetechnik von HBM - Broschüre
German
Tecnologia di pesatura industriale della HBM - Opuscolo
Italian
Operating Manuals
DSE - Operating Manual
English, German
Declaration of Conformity
DSE-HIE - EU Declaration of Conformity
Multilanguage
Device Descriptions
DSE ESI-files (EtherCat)


DSE device description file for EtherCAT.

Date: 05/2023 | Size: 2 KB

Multilanguage
DSE GSDML file (ProfiNet)


DSE device description file for PROFINET RT and IRT.

Date: 05/2023 | Size: 8 KB

Multilanguage
Firmware
DSE-HIE Firmware and WebServer


Archive including all current files for firmware and DSE WebServer.

To update firmware and WebServer the existing WebServer in the DSE-HIE can be used (no additional software or hardware needed).

Date: 05/2023 | Version: 3.1.0 | Size: 2 MB
Related Documents: Release Note


Multilanguage
Software
Automation-API WINDOWS Library and Software-Example


The HBM Automation API (Application Programming Interface) is an opensource interface that allows to access the functionality of various devices via Ethernet, WTX110, WTX120 and DSE-HIE. This enables to quickly create own application programs optimally adapted to your applications.

It includes the links to download the API from GIT-HUB github.com/HBM/Automation-API , a detailed manual with How-To´s and Ready-made examples to get started in only minutes with MS-Visual-Studio, also an EXE-Example to connect and operate DSE and WTX devices without software-environment.

Legal notice: The code and example does not imply any warranty or guarantee.

Date: 02/2021 | Version: 1.0 | Size: 453 KB

Multilanguage
DSE CAE data for ePLAN Electric P8


Macro-project containing CAE data for ePLAN Electric P8.

Date: 01/2021 | Version: 1.0 | Size: 22 MB

Multilanguage
DSE Example Filler Project with Raspberry-PI PLC and codesys


This is a quick start guide for using the filler function of a DSE. This function serves the optimization and monitoring of processes. By means of a user-friendly interface, complicated control technology is available for every user. For initial commissioning, all you need is a computer, sensor and a DSE. This can be extended by a PLC, which takes over the values set in the DSE for fast and accurate control. In this example, a Raspberry PI Model 4B with Codesys as PLC is used with a PROFINET or EtherCAT interface. The functionality of the filler is available in DSE from the FW V2. 0.

Legal notice: This example does not imply any warranty or guarantee.

Date: 04/2022 | Version: 1.0 | Size: 55 MB

Multilanguage
DSE Example Check-weigher Project with Raspberry-PI PLC and codesys


This is a quick start guide for setting up a checkweigher with the DSE (from FW 2. 0). The control scale can be controlled in two ways, on the one hand via a level and on the other via an external signal (in this example a pushbutton). The DSE has no hardware DIO's, so the trigger signals are captured by a PLC and transmitted to the DSE, here a Raspberry Pi Model 4B with Codesys as PLC, with a PROFINET and EtherCAT interface.

Legal notice: This example does not imply any warranty or guarantee

Date: 04/2022 | Version: 1.0 | Size: 53 MB

Multilanguage
DSE Example Checkweigher Project with Siemens PLC and TiA portal


This is a quick start guide for setting up a checkweigher with the DSE (from FW 2.0). The control scale can be controlled in two ways, on the one hand via a level and on the other via an external signal (in this example a pushbutton). The DSE has no hardware DIO's, so the trigger signals are captured by a PLC and transmitted to the DSE, in this example by a Siemens S7-1200 PLC with TiA-portal, with a PROFINET interface.

Legal notice: This example does not imply any warranty or guarantee.

Date: 06/2022 | Version: 1.0 | Size: 5 MB

Multilanguage
DSE Example Filler Project with Siemens PLC and TiA portal


This is a quick start guide for using the filler function of a DSE. This function serves the optimization and monitoring of processes. For initial commissioning, all you need is a computer, sensor and a DSE. This can be extended by a PLC, which takes over the values set in the DSE for fast and accurate control. In this example, a Siemens S7-1200 PLC with TiA-portal is used with a PROFINET interface. The functionality of the filler is available in DSE from the FW V2. 0.

Legal notice: This example does not imply any warranty or guarantee.

Date: 06/2022 | Version: 1.0 | Size: 6 MB

Multilanguage
Ethernet Device Configuration Tool


Software tool for initial setting of the IP address for the DSE, as it has no default IP address in the delivery state.

Date: 06/2020 | Version: 1.0 | Size: 6 MB

Multilanguage
Tech Notes
DSE Tech Notes


This is a collection of technical application reports for requirements around DSE.
They show a step-by-step solution up to the running project.
Available languages: English

DSE_EtherCAT-integration into Beckhoff-plc via TwinCAT
DSE_Profinet-integration into Siemens-plc via TiA-Portal
DSE protocol-change EtherCAT <> PROFINET without the DSE webserver

Legal notice: The examples given are intended to illustrate the solution and integration into DSE.
The examples do not imply any warranty or guarantee.

Date: 09/2022 | Size: 3 MB

Multilanguage