Intuitive Handling – no programming skills necessary
Automatic channel set up with TEDS
Integrated sensor database incl. creation of individual sensors and linearization
Acquire vehicle bus (CAN/CAN FD) and analog measured data in parallel and synchronously
Open DAIO-interface integrating any hardware
Integration of 3rd party devices (e.g. Vaisala Weather station)


Live processing of any incoming data (electric power, Rainflow, and rosette calculation)
Numerous data visualization possibilities (over time, frequency, angular)
GNSS/GPS data visualization on maps
Full video support in parallel to measuring data
Support of multiple panels or screens and ready for touch operation
Easy touch-screen operation even in harsh environments
Enhanced monitoring and active notifications
Remote and safe view via a web browser


Flexible Data Analysis & Handling
Easy-to-use data cleansing tools
Powerful post-processing analytics
Compare large data sets
Scripting for functional enhancement or workflow automation
Export data into any format: ASCII, EXCEL, DIAdem, MTS RPC III, MATLAB, NI TDMS, nCode s3t, Vector MDF 3/4, nSoft DAC, UFF58, etc.
Automated reporting into Office template
Data viewer for post-processing (nCode Viewer)
A Valuable Tool for Any Application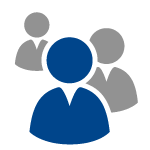 What Our Customers Say About Us
We have been using HBM's catman AP data acquisition software in structural testing for several years. We appreciate the usability, reliability and enormous range of functions. Without catman, we would not run a measurement analysis! HBM offers first-class support and an integrated knowledge base, responding to new possible improvements and questions very fast.

Werner Malgut, University of Applied Sciences Bremen, Institute for Experimental Statics
Make Your Measurement Project a Success
An Introduction to catman
First Measurement in catman
Learn more about the different functionalities of catman. Check out our video tutorials, tech-notes, seminars and case studies on catman.
Choose the Right catman Package for Your Needs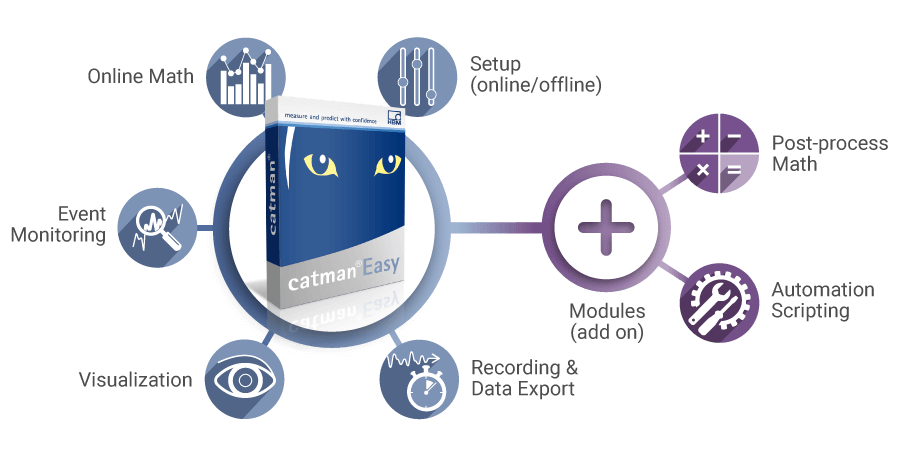 catman®Easy
catman Easy is the basic version which includes online and offline setup, online visualizations, and online maths as well as recording functionalities. catman Easy can be combined with two different add-on modules:
EasyMath: Mathematics module and auto sequences for catman Easy.
EasyScript: Free programming under VBA in measurement and analysis mode.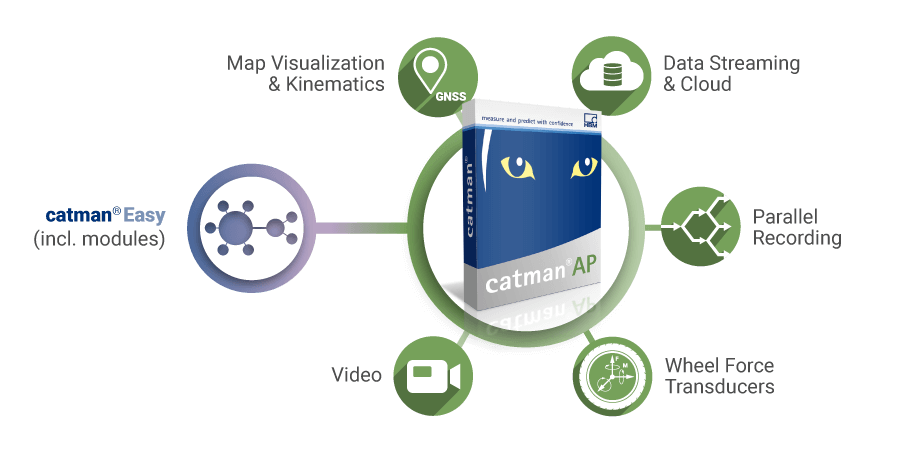 catman®AP
catman AP adds powerful modules to the full catman Easy software package, such as:
GNSS/GPS data visualization on maps
Video Recording
Wheelforce transducer integration
Parallel Recording
Cloud data streaming

catman®PostProcess
catman PostProcess offers various post-process tools to process, analyze and report your results, such as:
Curve operations (peak value detection, cut & smooth data, remove peaks)
Math functions (e.g. strain gauge rosette calculation, electric power calculation)
Data visualization
Video replay
Statistics & Classifications (e.g. rainflow counting, time-at-level)
Data export & Report
catman Upgrade and Maintenance Packages
To get the best out of your software and measurement project we offer you additional upgrades and maintenance packages:
catman AP Upgrade: Upgrade your catman Easy into the catman AP software package and benefit from the comprehensive range of functionalities within catman AP.
catman Easy Software Maintenance and catman AP Software Maintenance: With the 12-month or 24-month software maintenance contract you will gain a direct access to the HBM technical support and free of charge catman software updates released during maintenance period. Notification on new software versions will be sent via e-mail and, once registered, directly through the software. catman licenses are available for use without any time limitation and are not bound to a maintenance contract.
Information about your license status and license renewals can be obtained at any time via [email protected]. Please provide your license number and contract number.
Besides the catman software packages, catman is also available in an enterprise version for test with up to 20,000 measurement channels - ideal for aerospace applications.
Your measurement project requires a large team? Use the free of charge nCode Viewer for your catman projects to visualize and analyze your measurement data.
Compare the Functionalities of catman Software Packages
System requirements: Windows 8 / 10 / 11 (32 and 64 Bit). Supported interfaces: Ethernet PC interface, DAIO interface for connection of any measurement hardware, USB-based GPS devices, and video cameras with DirectShow interface.


MQTT;
Improvements to MXFS SI integration;
Improved handling of large CAN Datasets;
Several other bug fixes and performance improvements.
Get your free trial version of catman data acquisition software and test the different functionalities within 25 program starts.
catman University Packages
You are a student or teaching at a university? Contact us for our attractive catman university packages.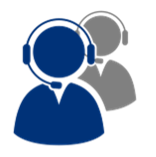 Benefit from our Excellent Service and Support
catman and the Supported Hardware
Obituary: The universe doesn't allow perfection
Our catman software is used in many industries around the world and is the result of Heiko's pioneering work. The software developer from Sailauf in Bavaria, Germany, started as a laboratory technician at HBM Darmstadt in 1986 and is considered the inventor of the powerful test & measurement software aimed at achieving results without any programming at all. Now our former colleague died suddenly and after only 2 years in well-deserved retirement on 21st October 2021.
Together with a small team, he has paved the way for modern, networked, and efficient PC-based measurement data acquisition over 17 years. Thousands of products have since been physically measured, analysed and improved using the measurement and analysis software. Heiko has left a huge void in our lives—that will be confirmed by anyone who has known him and worked with him.