Ring Torsion Load Cells: Precise Weighing up to 470 Tons
RTN ring torsion load cells are available for a wide range of maximum capacities (1 t—470 t). All versions are compact and, at the same time, extremely robust. These properties and their superior degree of protection (up to IP 68/IP 69K) make them ideal for a wide range of container weighing applications, use in large platform scales, and the construction of vehicle scales – even in unfavorable environmental conditions.
HBM's RTN load cells are extremely precise and minimize the influence of lateral load application with their unique ring-shaped strain gauges. Their high input resistance and low power consumption enable the use of battery-powered evaluation units for taking measurements.
Numerous special versions such as IECEx-ATEX or temperature-resistant versions (up to 110 °C) are available, and different cable lengths and cable types can be configured. A new version with an M12 connector is also available as an option for variants with accuracy class 0.05.
Maximum capacities: 0…1 t to 0…470 t
HBM accuracy class: up to C3
Degree of protection: IP 68 (optional: IP68/IP 69K)
High measurement accuracy
High precision and high signal-to-noise ratio, due to the 2.85 mV/V output signal
Excellent compensation of transverse loads,due to the special design and use of ring-shaped strain gauges
High input resistance (> 4,350 ohms) ensures low current consumption
Legal-for-trade weighing system of up to 3,000 d (OIML R60)

High precision – due to outstanding technical properties
Corrosion-resistant load cell made of stainless steel
Resistant to chemicals and moisture
Wide temperature range from -30 °C to +80 °C (optionally up to +110 °C)
Explosion-proof versions available (e.g. IECEx-AI 1/21)
Also available with braided cable

Ideal for harsh environments – due to stainless-steel design, high degree of protection, and explosion protection.
Compact design, very low in height
Optimized for parallel connection including off-center load compensation
14 maximum capacities, available in 3 sizes
Various cable lengths available.
Available with connector (M12, not for legal-for-trade applications)
Also available as a complete RTN/M weighing module, for easy mechanical integration

Flexible use in many applications – due to various product variants and accessories.


RTN with Improved Performance:
The heavy-duty load cell of the RTN series, which has been tried and tested for decades, has been further improved by the latest revision and equipped with new options. For example, it is now also available with a connector system for variants with 0.05 accuracy class. In conjunction with the connection cables (KAB175), which are available as accessories, the load cells automatically achieve the IP68/69K degree of protection when screwed on. Furthermore, the robust cable in a 6-wire circuit is halogen-free.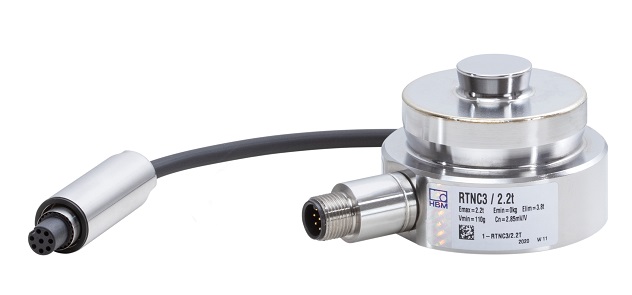 What's new:
Improved corrosion resistance
Version with connector (M12, only for 0.05 accuracy class, not legal-for-trade)
New pre-wired connection cable for plug version available as an accessory
Adjusted cable lengths
Extensive range of accessories available
Elastomer mounts
Pendulum mounts
Available options:
Explosion-proof versions according to different standards
Different cable lengths and cable types
Service temperature range up to +110°C
Also available as weighing module RTN/M
For more information, please refer to the data sheet.
Title / Description
Language
Products
Language
Content Types
Data Sheets
RTN - Caractéristiques technique
French
RTN - Data Sheet
English
RTN - Datenblatt
German
RTN - Technical Drawing Elastomer mount 150 t -470 t
English, German
RTN - Technical Drawing Elastomer mount VEN 1 t - 100 t
English, German
RTN - Technical Drawing Pendulum mount VPN 1 t -100 t
English, German
RTN - Technical Drawing Pendulum mount VPN 150 t - 470 t
English, German
RTN - Технический паспорт
Russian
RTN - データシート
Japanese
Brochures
HBM weighing technology for industry - Brochure
English
Industrielle Wägetechnik von HBM - Broschüre
German
Tecnologia di pesatura industriale della HBM - Opuscolo
Italian
Mounting Instructions
RTN - Mounting instructions
French, German, English
RTN - Mounting instructions
Portuguese
RTN - руководство
Russian
Certificates
EU-Baumusterprüfbescheinigung – BVS 13 ATEX E 108 X
German
EU-Type Examination Certificate – BVS 13 ATEX E 108 X
English
FM-Certificate of conformity – FM 18 CA 0144 X
English
FM-Certificate of conformity – FM 18 US 0176 X
English
RTN - OIML Certificate
English
RTN - Test Certificate
English, German
Declaration of Conformity
RTN - EU Declaration of Conformity
Multilanguage
Explosion Protection: Declaration of Conformity
C16/C2/U2A/C2A/HLC/PW15/PW25/PW27/PW29/RSC/RTN/Z6/Z6R/Z16 - EU Declaration of Conformity


Ex IIG for zone 2 and Ex IID for zone 21

Multilanguage
C16/C2/U2A/C2A/HLC/PW15/PW25/PW27/PW29/RSC/RTN/Z6/Z6R/Z16 - UK Declaration of Conformity


Ex IIG for zone 2 and Ex IID for zone 21

English
C16/C2/U2A/C2A/HLC/PW15AH/PW25/PW27/PW29/PW4L/RSC/RTN/Z6/Z6R/Z7/Z16/PW10/PW12/PW15/PW16/PW22/PWS/SP4 - EU Declaration of Conformity


Ex IIG for zone 1 and Ex IID for zone 21

Multilanguage
C16/C2/U2A/C2A/HLC/PW15AH/PW25/PW27/PW29/PW4L/RSC/RTN/Z6/Z6R/Z7/Z16/PW10/PW12/PW15/PW16/PW22/PWS/SP4 - UK Declaration of Conformity


Ex IIG for zone 1 and Ex IID for zone 21

English
Explosion Protection: Safety Instructions
ATEX / IECEx Zone 1/21 – Ex i - Safety Instructions


II 2G Ex ia IIC T6/T4 Gb / II 2D Ex ia IIIC T125°C Db

English, German, Spanish, French, Italian, Portuguese
ATEX / IECEx Zone 2/21 + Zone 2/22 - Safety Instructions


II 3G Ex ec IIC T6/T4 Gc / II 2D Ex tb IIIC T125°C Db IP67

II 3G Ex ec IIC T6/T4 Gc / II 3D Ex tc IIIC T125°C Dc IP67

English, German, Spanish, French, Italian, Portuguese