Cleaning of Bending Beam Load Cells: Avoid Downtime, Reduce Cost
Bending beam load cells are often employed in harsh environments. It is essential that they withstand contaminations, both during the production process and during the cleaning process, when aggressive cleaning agents or even high-pressure cleaners are used. The cleaning times of a production facility are a key factor for production efficiency, regardless of whether it is during food processing, the production of pharmaceutical products, or the filling of building material. It is essential to avoid prolonged downtimes owing to complex cleaning processes or the replacement of individual components to save costs.
Watch this video to see how the cleaning times of a bending beam load cell with bellows compare to those of the new Z6R load cell with an innovative housing without corners or edges:
A comparison of cleaning times:
Conventional bending beam load cell with bellows in comparison to Z6R bending beam load cell with no corners and no edges
The result:
The Z6R bending beam load cell, with its protected design, reduces cleaning time to a minimum.
Bending beam load cells with bellows require prolonged and meticulous cleaning, since dirt can gather in the gaps.
Easy-to-clean Z6R bending beam load cell used in extreme applications – Its advantages include the following:


The Z6R is mechanically and electrically compatible with the Z6 load cell, which is used across the world.
Easy and convenient upgradation
Seamless integration with up-to-date measurement chains


Minimal cleaning time
No unnecessary downtimes due to the load cell's robustness and longevity and its ability to withstand high-pressure cleaners and aggressive media


A flexible solution that can be used in the following:
legal-for-trade processes and tank weighing
the chemical, pharmaceutical, building, feed, and food industries
platform scales, dosing and batching systems, packaging machinery, and checkweighers
Robust and easy to clean: the new Z6R bending beam load cell
The new Z6R bending beam load cell is intended for a measuring range between 20 and 200 kilograms and is extremely robust. The stainless steel housing withstands both extreme mechanical stress and aggressive media, such as cleaning agents. The protected, dirt-repellent design, without gaps or edges, can be used in harsh environments, since the load cell is easy to clean and liquids roll right off[G1] . Additionally, the Z6R is mechanically and electrically compatible with the proven Z6 bending beam load cell developed by HBM, which has set the market standard for many decades.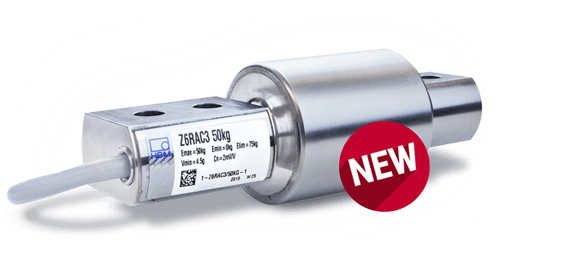 Protected, dirt-repellent design without gaps or edges
Withstands high-pressure cleaners
Protected measuring element owing to the hermetically welded cell body
Prevents adherence owing to the electro-polished surface

Precise weighing up to C3 accuracy class
Stainless steel housing
Withstands aggressive media, such as chemical and cleaning agents
Suitable for use in potentially explosive atmospheres
EMC-tested

The dimensions are identical to those of the Z6 load cell
The Z6 and the Z6R are electrically compatible.
Replacement is easy