Z6 Bending Beam Load Cell: The Market Standard for Precision and Robustness in the Weighing Range from 5 kg to 1 t
The precise Z6 bending beam load cell, developed by HBM in 1972, has been continuously optimized for decades. Z6 is based on the strain gauge technology. It is available in nine different versions with maximum capacities that range from 5 kg to 1 t. The load cell with the characteristic bellows has become a worldwide standard, with millions of load cells having been sold. It is employed in platform and conveyor scales for dosing and level measurement as well as in weighing modules that, for instance, are used for tank weighing applications. The metal bellows protects the load cell against the ingress of moisture. The Z6 load cell has been optimized for connection in parallel. An IECEx-ATEX-compliant explosion-proof version is also available.
Accuracy class (OIML): up to C6
Nominal load: from 5 kg to 1 t
Degree of protection: IP 68
D1, C3, C4, C5, and C6 accuracy classes according to OIML
Robust 6-wire configuration for compensation of resistance variations
Excellent off-center load behavior with a low sensitivity tolerance and output resistance



Precise measurement results owing to certified, precise load cell technology
Electro-polished stainless-steel measuring body
IP68 (100 h, 1 m water column)
Hermetically sealed metal bellows
Load cells and mounting aids made of stainless steel


Continuously reliable weighing
Different maximum capacities are available: 5 kg, 10 kg, 20 kg, 30 kg, 50 kg, 100 kg, 200 kg, 500 kg, and 1 t
Metrological approvals: OIML, NTEP (USA), NMIA (Australia)
Explosion-proof versions are available (IECEx/ATEX, FM (USA))
Cable lengths range from 3 to 20 meters
Cable can be cut to length owing to the 6-wire configuration



Versatile use due to high variability and adaptability
How about something a little more rugged?
For use in applications that require high hygiene and robustness, the new Z6R bending beam load cell is available. Compatible with the proven Z6 load cell, optimized for use in harsh environments, Z6R is setting new standards.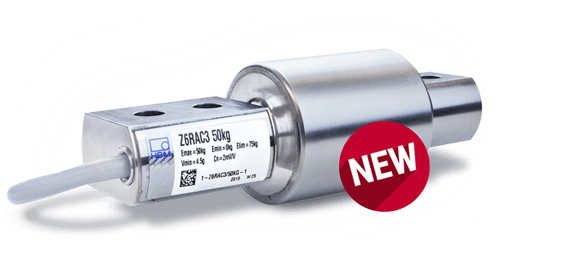 Download the CAD step files for this product
Z6 CAD step files
Z6 Accessories CAD step files
Explosion-protected version available
Optionally available:
Ex-protection designs as per ATEX and IECEx
Title / Description
Language
Products
Language
Content Types
Data Sheets
Z6 - Caractéristiques techniques
French
Z6 - Data Sheet
English
Z6 - Datenblatt
German
Z6 - Folha de dados
Portuguese
Z6 - Hoja de características
Spanish
Z6 - Prospetto dati
Italian
Z6 - Технический паспорт
Russian
Z6 - 데이터 시트
Korean
Z6 - データシート
Japanese
Z6 - 数据表
Simplified Chinese
Brochures
HBM weighing technology for industry - Brochure
English
Industrielle Wägetechnik von HBM - Broschüre
German
Tecnologia di pesatura industriale della HBM - Opuscolo
Italian
Operating Manuals
Z6 - Istruzioni di montaggio
Italian
Z6 - Manual de empleo
Spanish
Z6 - Operating Manual
English, German, French
Z6 - Инструкция по эксплуатации
Russian
Certificates
EU-Baumusterprüfbescheinigung – BVS 13 ATEX E 108 X
German
EU-Type Examination Certificate – BVS 13 ATEX E 108 X
English
FM-Certificate of conformity – FM 18 CA 0144 X
English
FM-Certificate of conformity – FM 18 US 0176 X
English
Z6 - OIML Certificate of conformity
English
Z6 - Prüfschein Baueinheiten-Zertifikat
German
Z6 - Test-/Parts-Certificate
English
Declaration of Conformity
Z6F, Z6R - EU Declaration of Conformity
Multilanguage
Explosion Protection: Declaration of Conformity
C16/C2/U2A/C2A/HLC/PW15/PW25/PW27/PW29/RSC/RTN/Z6/Z6R/Z16 - UK Declaration of Conformity


Ex IIG for zone 2 and Ex IID for zone 21

English
C16/C2/U2A/C2A/HLC/PW15AH/PW25/PW27/PW29/PW4L/RSC/RTN/Z6/Z6R/Z7/Z16/PW10/PW12/PW15/PW16/PW22/PWS/SP4 - EU Declaration of Conformity


Ex IIG for zone 1 and Ex IID for zone 21

Multilanguage
C16/C2/U2A/C2A/HLC/PW15AH/PW25/PW27/PW29/PW4L/RSC/RTN/Z6/Z6R/Z7/Z16/PW10/PW12/PW15/PW16/PW22/PWS/SP4 - UK Declaration of Conformity


Ex IIG for zone 1 and Ex IID for zone 21

English
Explosion Protection: Safety Instructions
ATEX / IECEx Zone 1/21 – Ex i - Safety Instructions


II 2G Ex ia IIC T6/T4 Gb / II 2D Ex ia IIIC T125°C Db

English, German, Spanish, French, Italian, Portuguese
ATEX / IECEx Zone 2/21 + Zone 2/22 - Safety Instructions


II 3G Ex ec IIC T6/T4 Gc / II 2D Ex tb IIIC T125°C Db IP67

II 3G Ex ec IIC T6/T4 Gc / II 3D Ex tc IIIC T125°C Dc IP67

English, German, Spanish, French, Italian, Portuguese