FS22 Industrial BraggMETER: Static and Dynamic Optical Interrogators
FS22 Industrial BraggMETER are static (1S/s) and dynamic (50, 100, 200, 500 S/s*) optical measurement units specifically designed to interrogate Fiber Bragg Grating (FBG) based sensors in industrial environments.
BraggMETER interrogators employ proven continuous swept laser scanning technology. They include a traceable wavelength reference that provides continuous calibration to ensure system accuracy over long term operation.
The Industrial optical interrogators meet the required reliability and versatility to be used in both laboratory testing and field deployment in Civil, Aeronautics, Energy and R&D.
Efficient
Broadband tuning range
1, 4 or 8 parallel optical channels
Simultaneous measurement of a large number of sensors.
Reliable
Clever design, careful selection of components
Real-time operating system
Consistent and deterministic operating system
24/7 operation under harsh environments
Programmable
Ethernet Interface for connection to an external PC
Fully controlled using ASCII strings, BraggMONITOR or catman® software
Easy control via several apps
Compatible
Full integration with other products via catman® sotftware
Hybrid measurements with other HBM instruments and technologies
Available Configurations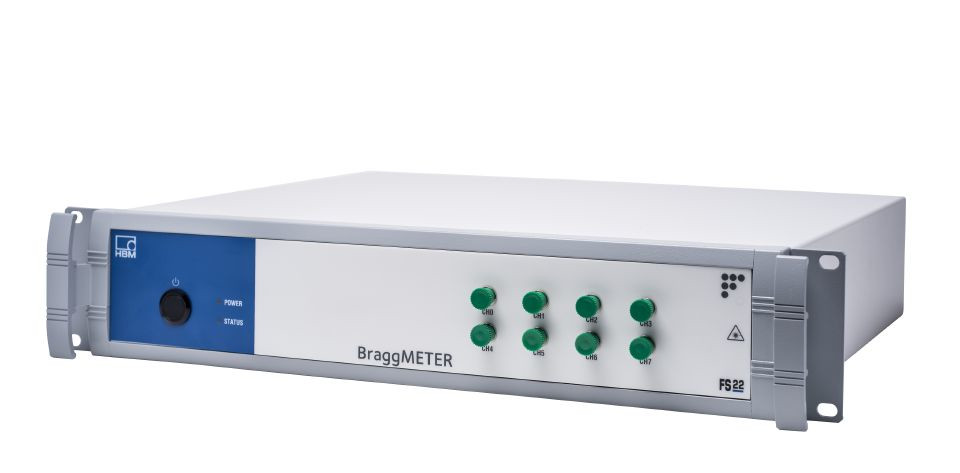 • SI - Static (1S/s) / DI - Dynamic (50 S/s, 100 S/s, 200 S/s, 500 S/s)
• Standard or rack-mountable formats
• 1,4 or 8 channels
Smart Peak Detection
Embedded in the FS22 BraggMETER SI (static) interrogators this feature allows accurate and stable detection of all FBG peak values in large/complex sensing structures..
For more information please refer to the data sheet.
This video is presented by Leonor Soares, Sales Engineer from HBM FiberSensing