Interview with: MGCplus developers Manfred Kreuzer and Tim Sander
The MGCplus data acquisition system of HBM has been sold successfully worldwide for over 25 years. That's a rarity for electronic products. Now MGCplus has been updated with the new CP52 communication processor. On this occasion we met with Manfred Kreuzer and Tim Sander for an interview.
One was significantly involved in the creation of MGCplus – and looks back at a technologically explosive initial period. The other is ensuring that as the new communication processor is developed, the system will continue to reflect the state of the art in the future. We spoke with both of them about those aspects – and of course about the two intervening decades.
"MGCplus is a nearly unique product"
Mr Kreuzer, one of your most important development projects was the MGCplus measuring amplifier system, which has made quite a name for itself in measurement technology in the past 25 years – and is still relevant today. What can you say with this product?
Manfred Kreuzer: MGCplus is a nearly unique product. Where else can you find this – an electronic instrument that has survived for 27 years? By the way, I say 27 years because I am counting the first version, which didn't have a "plus" in the name yet.
At that time the amplifier was one of your major development projects – since then you have also managed many other products. Are you still interested today in what the future holds for MGCplus?
Kreuzer: Of course. When a new MGCplus system is built here, for example a large system with several thousand measuring points for the aircraft industry, I always stop by and have a look at it.
…worked as a development engineer in the laboratory for studio color cameras at Fernseh-GmbH in Darmstadt for three years after his studies before coming to HBM in 1968. He soon became the manager of the Electronics department there, which was still very small but grew steadily. In 1988 he took charge of the electronics development, then in 1992 of the entire development program, from electronics to load cells. He gave up his management position in 2005 at the age of 63 to continue working for five more years as Senior Technologist for optical sensors. Entering retirement in 2010, Manfred Kreuzer turned to his hobbies, including digital photography – until he returned to HBM in 2016 to share his experience for a project in development.
He has this to say about product development:
"In the beginning there is a good concept based on innovative ideas. It is important when implementing these ideas that the draft version and tests are always guided by theoretical considerations and calculations."
Mr Sander, you participated in the development of the new CP52 communication processor for the MGCplus: a step into the future of MGCplus. What is it like for you to work on an HBM flagship product of this nature?
Tim Sander: It's certainly a challenge. Because the system has been available for so many years, we have an unbelievable number of users in the field. We have to remain downwards compatible for them. At the same time we are demonstrating with the revision that progress continues and we are keeping the support up-to-date.
CP52 replaces the two old communication processors CP22 and CP42. What will it be able to do?
Sander: One major feature is synchronization based on the Precision Time Protocol or PTP. This means that no mater what amplifier I use along with MGCplus in the same measurement project – they are all perfectly synchronized. There are other improvements as well: For example, 512 measurement channels can now be connected to the CP52 instead of the previous maximum of 256. Measurement data can now be saved to USB.
Synchronization and storing data on USB… aren't those taken for granted nowadays?
Sander: I wouldn't say they are taken for granted. PTP synchronization offers significant added value and is definitely an incentive for users to choose CP52. By the same token, compatibility is a valuable asset for MGCplus: Therefore we have to make certain for example that even very old plug-in cards still work.
…has been a software developer for embedded software at HBM since 2008. He now works on MGCplus. His previous assignments were with other amplifiers, including PMX. Everything started with his studies in information technology and participation in scientific work at Darmstadt Technical University.
He has this to say about product development:
"It is always a matter of considering trade-offs: On the one hand we want to continue moving forward with proven technologies; on the other hand we don't want to tread water. The challenge is to find the right middle course."
The question arises whether a system of this kind is still really up-to-date.
Kreuzer: The problem a system like this usually has is not that it's no longer needed on the market, but rather the great upkeep overhead resulting from such a long product lifecycle. Requirements and standards change and parts are no longer available. Often it is not the users that are responsible for a product being discontinued, but the supply companies.
Sander: I think that the many years of compatibility is even one of the reasons for the success of MGCplus. But it also sets limits for our development work: A technological revolution like at the time of the original development of the product seems quite improbable today. On the other hand, we are investing a lot in quality assurance. But we also see that people still want the system now as they always have.
Kreuzer: A system like MGCplus with so many components is extremely complex. Just think of how many types of transducers alone can be connected, from thermocouple to strain gauge. I think that maintaining a system like this is a little like building a house: Often it's harder to renovate an old house from the ground up than to build a new one next to it. But it's worth it if the fundamental structure is stable. There is still plenty of potential in MGCplus today.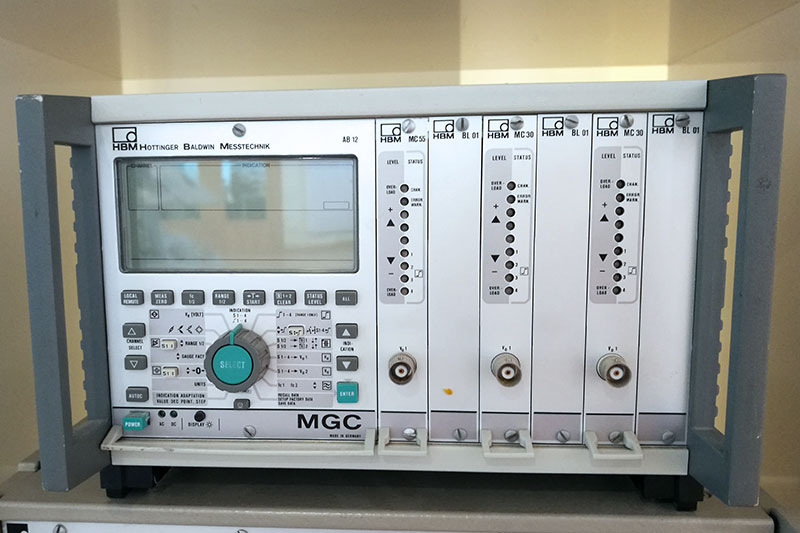 There are data acquisition systems galore on the market, most of them much newer than MGCplus. What do you think – why do MGCplus users still like to keep using it?
Kreuzer: The product is just plain good! MGCplus can hardly be beaten in terms of its functionality and compactness at a comparably attractive price, and it has become established as the standard measurement system on the market. It has everything it needs to hold its ground in the measurement technology world. That makes the system a stable basis for investments.
Sander: I believe MGCplus conveys confidence and reliability. Obviously we have been compatible for 25 years. That's one thing. Besides that, MGCplus still has a "face": Control keys directly on the instrument and a display that shows measured values. This allows users to establish a connection to the instrument the first time they start it up so they find access to it intuitive.
Even in the time of smart phones!
Kreuzer: Yes, it's astonishing. Even today, people still like something they can hold onto.
But that can't be the only reason for a product lifespan of a quarter century, or is it?
Kreuzer: It's also important to consider the entire range of HBM services and products: If necessary we can supply an entire metrological system, hardware and software, from a single source – and we are responsible for ensuring that it works.
Sander: Users get everything they need for their assignment, from strain gauges to software.
Kreuzer: MGCplus is a brand. If you buy something here you know what you're getting. And let's not forget that it takes a long time for users to learn to use a system correctly. Especially with such enormous functionality. By now a large number of measurement engineers have experience with the system and that pays off.
Here's an estimate I'd like both of you to make: What do you think – how many MGCplus devices have been sold in those 27 years?
Kreuzer: 40,000?
Sander: 25,000?
Close: It's about 24,000 devices.
Kreuzer: A huge number when I think that we started with unit numbers of a few hundred – and had problems getting screens for our circuits, called gate arrays. The manufacturers didn't want to produce such small quantities. Then a special introductory offer saved us just at the right time.
It sounds like you had some problems back then…
Kreuzer: That's normal in the beginning, I think. But in any case we brought out something completely new all at once. Until then measuring amplifiers had been completely analog. From the measuring range down to the right filter, everything had to be adjusted manually with buttons and knobs. There was a massive component responsible for each of those functions. And then we came along with the digital MGC and an independently developed gate array. Measuring range adjustment, zero balance, 15 filters – everything was covered with one single component. Aside from the fact that this single circuit naturally requires much less energy, it also needs significantly less space. And there's more: Because the measured values are digitized, simultaneous measurements on all channels are possible. That was also new. Before that measured values were recorded in analog and then prepared digitally at the end to show them on the display. In the MGC everything was completely digital. All of that made it possible for us to measure not only fast, but also accurately. There was no technology at that time that could manage anything comparable.
Sander: The new product was an enormous success. But the example of the gate arrays shows how the system has also changed: We now use newer parts that are significant more powerful.
Since we are already talking about change: Along with the new communication processor, MGCplus is also getting a new housing for a fresh look. How important is appearance for an amplifier?
Sander: Personally I find appearance a secondary consideration. The focus is on the amplifier delivering the right measured value, for the instrument to be reliable and easy to operate. The function defines the direction. But despite that I'm still happy with the new design: It shows externally that a lot is going on inside.
In conclusion, let us dare to glimpse into the future: Where is measurement technology headed, quite aside from MGCplus?
Sander: At HBM we need to have stronger solutions available for Cloud Computing and related applications. That is a challenge right at this moment.
Kreuzer: And in all of that we do not forget our roots and our history. Because that's what we build on – even in the future.