QuantumX CX27C: Real-Time Bench Automation and Data Analysis – Perfectly Serves Both Worlds
The QuantumX CX27C gateway module is the key to many different measurement chain configurations - without compromise.
It enables both time-synchronous metrological analysis of the test specimen and integration with test bench automation und thus real-time testing.
Sensor information from up to 24 QuantumX or SomatXR modules can be acquired simultaneously and up to 199 signals can be integrated, in parallel and in real-time. The CX27C gateway module is particularly flexible due to the various possibilities of data integration:
Integration via Ethernet TCP/IP into the catman data acquisition software or any other software
Real-time integration via EtherCAT or PROFINET IRT
Integration via XCP-on-Ethernet into any CAL software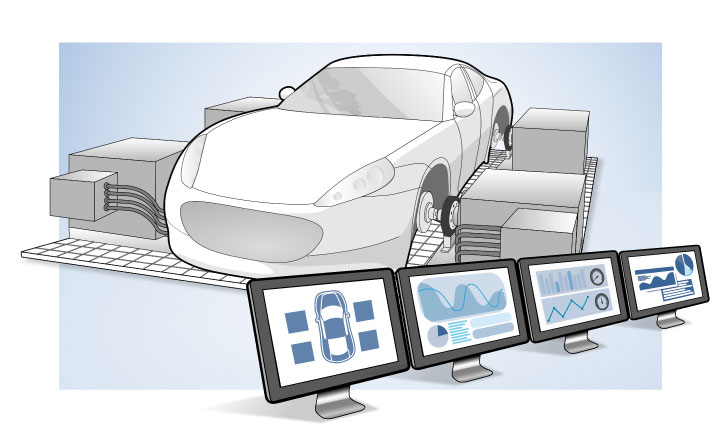 Quickly and easily integrate QuantumX
A wide range of synchronization options such as EtherCAT™, PROFINET or Ethernet IEEE1588:2008 PTPv2 and NTP are available to quickly and easily integrate the powerful data acquisition system QuantumX into a wide range of test environments.
The CX27C gateway makes the QuantumX ideal for the following applications:
Structural and thermal durability
Engine and powertrains
Developmentment of new functions for control units
Collect measurement data using QuantumX and catman
Real-time integration (EtherCAT or PROFINET IRT) via XCP-on-Ethernet
Universal channels enable use of any sensor
Ideal for constantly new requirements and demanding tasks


For test sample analysis and real-time automation using Ethernet, EtherCAT, PROFINET or XCP-on-Ethernet in parallel.
2 MS/s Ethernet data throughput
199 real-time signals in parallel on a millisecond time grid
Unique parallel operation of the 4 bus connections, e.g.

EtherCAT + Ethernet
PROFINET + Ethernet
EtherCAT und XCP-on-Ethernet
Multiple CX27C in one system: EtherCAT + EtherCAT + PROFINET
XCP-on-Ethernet and CAN FD with MX471C


High parallel data throughput owing to two signal paths
Automatic configuration due to automapping
Multiple synchronization options (PTPv2, EtherCAT, PROFINET, FireWire…)
Free and easy-to-use configuration software (MX Assistant)
Ideal for constantly changing and demanding tasks


Fast signal integration using automatic channel parameterization (TEDS) and automapping.